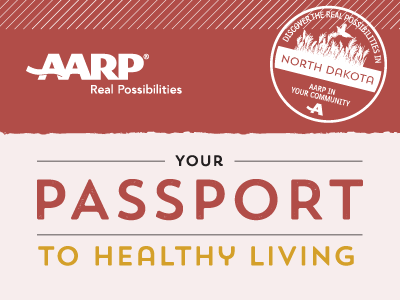 If you missed the Passport to Healthy Living 2020 Kickoff on Wednesday, June 17, you can still watch it online.

Learn about health apps and fitness trackers that can help keep you engaged and motivated. You'll also get an overview of other upcoming Passport events.

You can watch the kickoff event here AARPND on Facebook.com or here YouTube.com.

In-person Passport events have had to be cancelled because of the coronavirus pandemic. Until such time as it is safe to hold in-person events, AARP North Dakota will be conducting Passport events and other programs and events online.

For Passport to Healthy Living, we'll connect at 3 p.m. the third Wednesday of each month. Guest presenters will expose you to various activities and fitness options, cultural events, and nutrition education.

Watch our webpage for upcoming events, and follow us on Facebook.com at www.facebook.com/AARPND.

We are encouraging AARP members in North Dakota to sign up to receive email from AARP North Dakota about upcoming events and other news. Go to www.aarp.org/yes2emailND.

If you don't already have an account on the AARP website, you'll have to create one (by entering a user name and password) before you can opt in to receive our email.

You'll receive emails about upcoming events and we will also periodically send you an email with other news from AARP North Dakota.

So, please opt in to receive our emails and be among the first to know about our upcoming events.