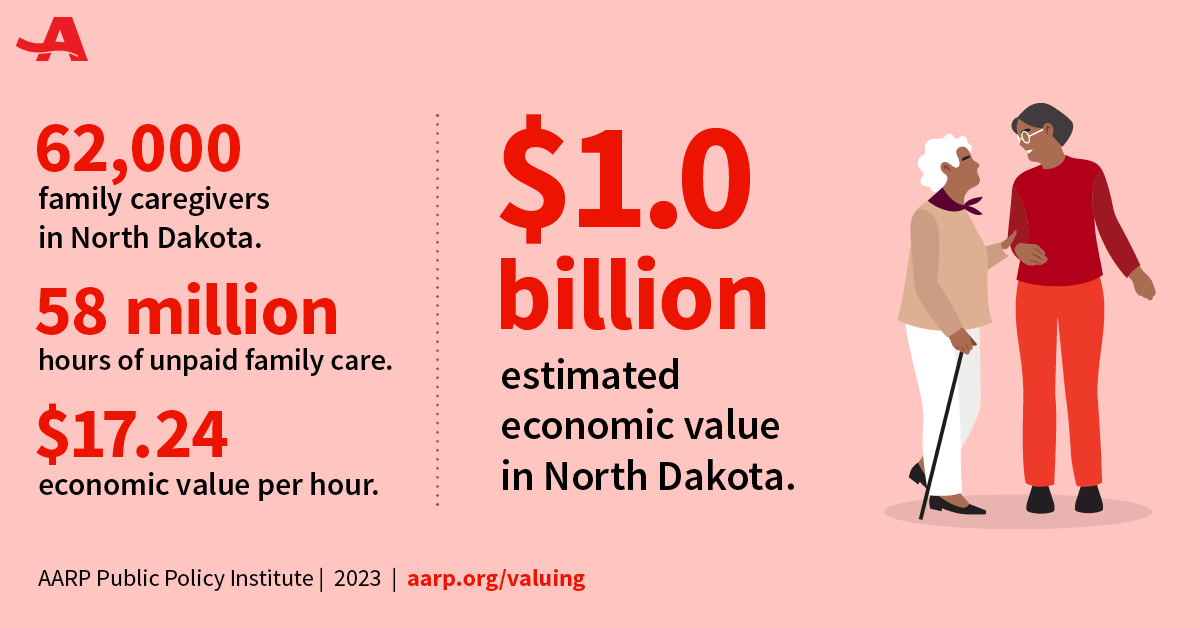 The unpaid care provided by 62,000 family caregivers in North Dakota is valued at $1 billion, according to new state data available in AARP's latest report in the Valuing the Invaluable series (aarp.org/valuing). While the number of caregivers in North Dakota dropped by 6,000 people, the hours of caregiving rose from 57 to 58 million and the unpaid contributions of caregivers increased by $20 million since the last report was released in 2019. The report highlights the growing scope and complexity of family caregiving and highlights actions needed to address the many challenges of caring for parents, spouses, and other loved ones.

"Family caregivers play a vital role in North Dakota's health care system, whether they care for someone at home, coordinate home health care, or help care for someone who lives in a nursing home," said Josh Askvig, AARP ND State Director. "We know that a top priority of North Dakotans over 50 is to live independently and have access to services as they age. That is directly linked to ensuring that family caregivers – more than 60% of whom also work full or part time – have the financial, emotional and social support they need to help loved ones stay in their homes and communities."

AARP ND is fighting and will continue to fight for family caregivers and the loved ones they care for. During the 2023 Legislative Session, AARP ND is focused on ensuring funding for accessible and affordable housing; expanding access to safe and affordable long-term care services, senior nutrition funding, enhancements to the Aging and Disability Resource Link; and increasing resources and support for the 62,000 unpaid North Dakota family caregivers. This includes:


Support for SB2012: Department of Human Services Budget which includes funding enhancements to provide critical support through community education, state funding for in-home services such as adult foster care and family home care, and additional funding supports for home delivered meals.
Support for SB 2136 and HB 1211: Both bills would enhance the existing ND Homestead Property Tax Credit program by raising the thresholds under which adults over age 65 or disabled can qualify for property tax breaks on their residence
Support for HB 1014: Housing Incentive Fund that funds affordable housing projects that enable individuals to stay at home in their communities.
Support for SCR 4018: Which would authorize a study of the creation of Paid Family Leave in North Dakota.
Read the full report aarp.org/valuing for national and state-by-state data on the economic value of unpaid care by family and friends.

Download the ND Factsheet: AARP ND Valuing Invaluable

Resources and information on family caregiving are available at aarp.org/caregiving.