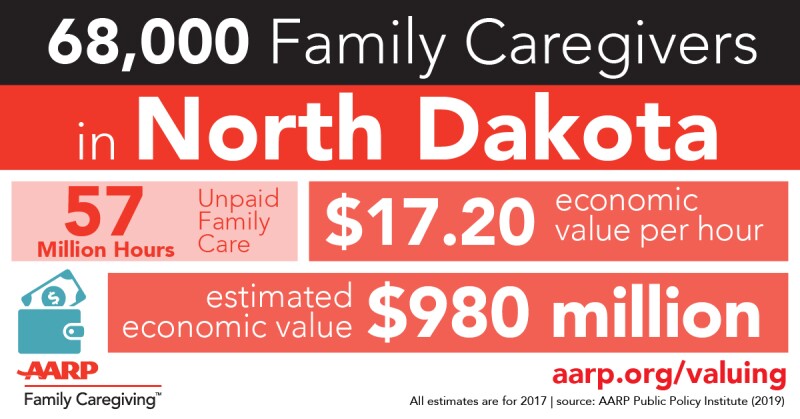 In North Dakota approximately 68,000 family caregivers provided an estimated 57 million hours of care – worth a staggering $980,000 – to their parents, spouses, partners, and other loved ones in 2017, according to state data available in the latest report of AARP's Valuing the Invaluable series.

The complexity of family caregiving increases as medical and nursing tasks continue to enter the home, and family demographics change amidst an aging population.

"Family caregivers help with many different tasks so their loved ones can remain independent and safe in their own homes," said AARP North Dakota State Director Josh Askvig. "These caregivers continue to perform more complex tasks, including medical and nursing tasks such as medication management, wound care, and injections. That's why AARP continues to fight to support family caregivers and the family and friends who count on them every day."

In 2019, AARP North Dakota helped pass the CARE Act during the most recent legislative session. This new law provides crucial support for family caregivers when their loved ones go into the hospital and as they transition home. It ensures hospitals identify and involve the patient's family caregiver throughout the hospital stay; keep that caregiver informed of their loved one's discharge plans; and provide education and instruction on aftercare tasks they will need to perform at home, such as wound care and medication management.

In 2020, AARP will continue to fight for commonsense solutions to give family caregivers more support, help at home, training and more. Those solutions include:

Working with North Dakota hospitals on successful implementation of the CARE Act to ensure that a patient's caregiver is informed of care plans and provide instructions on how to perform medical tasks the caregiver will need to provide at home.
Work with the N.D. Department of Human Services to ensure success of the Lifespan Respite Care Grant, which offers funding and resources to support caregivers who have a need for planned respite care or if they are experiencing an emergency.
Continue to promote the availability of home- and community-based services to help people continue to live independently in their own homes and community.
Work with the state's congressional delegation on legislation that supports family caregivers.
The full "Valuing the Invaluable 2019 Update: Charting a Path Forward" report is available at www.aarp.org/valuing.

Resources and information on family caregiving, including AARP's Prepare to Care Guides, are available at www.aarp.org/caregiving.