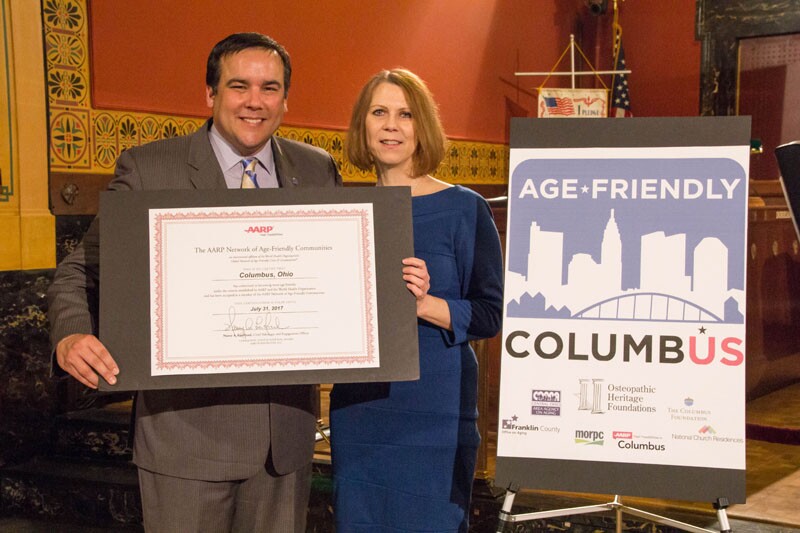 By Tamara James, AARP Ohio Interim State Director

The City of Columbus was welcomed into the AARP Network of Age Friendly Communities yesterday at Columbus City Hall. In Ohio, only Columbus and Cleveland have been accepted to the network.

In 2012, AARP became the exclusive affiliate in the United States of the World Health Organization's global network. Since that time, 77 communities in 28 states and Washington DC have entered the AARP/WHO network, which means that 41 million Americans now live in a designated AARP Age Friendly community. This list continues to grow as new cities recognize the opportunities and join the network.

During the kick-off event, Columbus Mayor Andrew Ginther and other representatives delivered remarks describing the need for and goals of the initiative. The full announcement can be viewed here.

Columbus Mayor Andrew Ginther: Age-Friendly Columbus is a city-wide initiative to ensure that individuals of all ages can remain in their neighborhoods and live a high quality of life independently. The strength of our neighborhoods depends on the strengths of our residents and their engagement at all ages.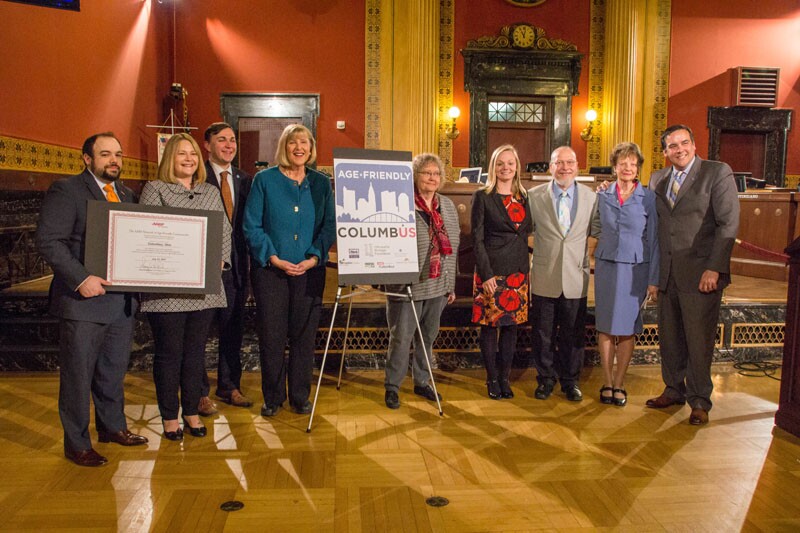 Columbus City Council member Michael Stinziano: The work of Age-Friendly Columbus is a comprehensive approach that reaches across the public and private sector. My experience has taught me to listen to constituents, and there is a powerful message from our older residents. They love their city, their neighborhood and their homes. They want to stay and are ready to work toward a solution.

Mid-Ohio Regional Planning Commission (MORPC) executive director William Murdock: The first year is focused on a city-wide assessment that will include surveys and conversations with Columbus residents and others. The second year will involve strategic planning based on the assessment results. We have hired an Age-Friendly Community Coordinator to serve as the project staff lead over the course of this two year initiative. The City of Columbus, MORPC, and leaders from around Columbus will work together on this initiative.

City of Columbus Senior Advocate Fran Ryan: From housing and transportation, to employment and inclusion, Age-Friendly Columbus will work toward developing a plan to improve the lives of older adults. And the best part is these improvements across structures and services will inevitably help people of all ages. Columbus being accepted into the Age-Friendly Community network by AARP and the World Health Organization is a very proud moment for our wonderful city.

AARP Ohio Interim State Director Tamara James: The AARP Network includes a great variety of cities from which Columbus can share and learn from such as Philadelphia, Austin, San Francisco, Boston, Lansing, and Denver. With AARP as a national partner and with AARP staff supporting these cities, we have tremendous access to unique information that will help advance the work being done here in Columbus.

Please contact MORPC to explore how you can play a role in the Age-Friendly Columbus initiative.

RESOURCES:

AARP Network of Age Friendly Communities Website

City, civic leaders hope initiative makes Columbus age-friendly (via The Columbus Dispatch)