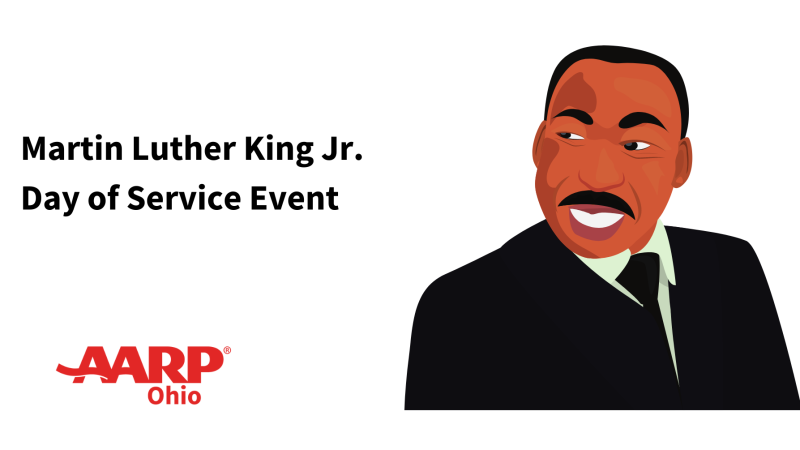 Honoring the life of Dr. Martin Luther King Jr., AARP Ohio and the Cleveland Chapter of Jack and Jill of America, Inc., encourages Ohioans of all ages to join a symposium on Empowering the Community to Live Well: Taking Charge of Our Health.

The event on Jan. 17 is designed for participants to learn about services that can help improve the health and wellbeing of residents throughout our communities and empower them to make healthy living choices. It will also address health disparities currently affecting Black communities.

Symposium sessions include a healthy cooking demonstration, dental and oral health review, and mental health resources overview. (Schedule of sessions below)

Participants may also register for our COVID-19 vaccination, booster, or test, which is scheduled for Wednesday, January 19. Programming for children and teens will run concurrently with the webinar and will include opportunities to support literacy, proper nutrition and the mental health of our children.
Event details:

Who: Ohioans of all ages.
When: 11 am – 3 pm on Jan. 17, 2022
Where: Zoom
How: It's free but you must register. To do so, click here.
Symposium agenda:
11 am: Welcome
11:10 am: Dr. LaTasha Jarrett, M.D. (The Centers) on the state of health and vaccines
12:25 pm: Gourmet Gent cooking demonstration
1:05 pm: Healthy eating with Dr. Roizen
1:35 pm: Why and how to participate in clinical research
2:05 pm: Dental and oral health
2:25 pm: Health service navigation
2:40 pm: Mental Health Resources
2:55 pm: Legislative priorities of the Children's Defense Fund