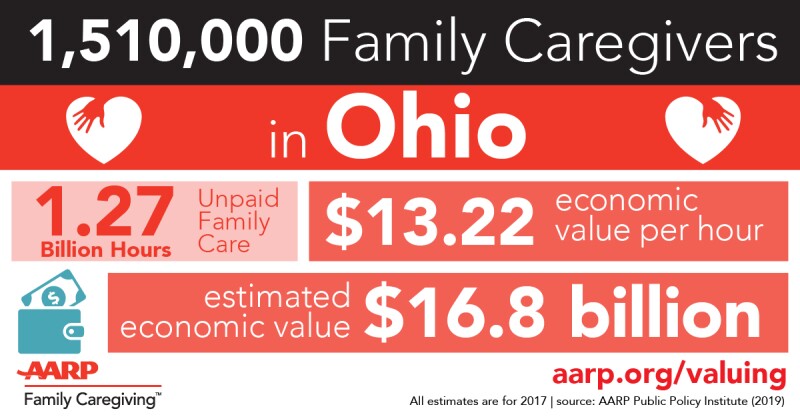 In Ohio approximately 1.5 million family caregivers provided an estimated 1.27 billion hours of care — worth a staggering $16.8 billion — to their parents, spouses, partners, and friends in 2017, according to state data available in the latest report of AARP's Valuing the Invaluable series. The complexity of family caregiving increases as medical and nursing tasks continue to enter the home, and family demographics change amidst an aging population.



"Family caregivers do what they do with love, and the care they provide is invaluable for those receiving it. Our research shows they are taking on more complex care roles, like changing dressings. And they are juggling roles as the advocate for their loved ones, coordinating care and doing this while still working," said AARP Ohio Advocacy Manager Luke Russell. "Recognition of the critical value family caregivers provide is growing, but we still need policymakers and employers to continue to take meaningful steps to support family caregivers, who need to take care of themselves, so they can continue to provide care for others."



AARP is fighting to support family caregivers and the older family and friends who count on them. In 2019, AARP Ohio supported and provided testimony for Senate Bill 24, legislation which has been signed into law by Governor Mike DeWine and will establish an Alzheimer's Disease and Related Dementias Task Force in Ohio.



In 2020, AARP will continue to fight for commonsense solutions to give family caregivers more support, help at home, training and more. Those solutions include:

· Financial Caregiving: Legislation to help family caregivers navigate financial challenges, such as state tax credits for family caregivers who are caring for loved ones.
· Home and Community Based Care: Significantly increasing—or protecting against significant decreases in — the number of older adults who have access to state-funded services at home, like home care and adult day care.

· Nurse-Family Caregiver Connection: Bills to cut through the red tape that prevents nurses from doing their jobs.



The full report, which includes national and state figures, trends in family caregiving, policy recommendations and the study methodology, can be reviewed online by visiting www.aarp.org/valuing.



Resources and information on family caregiving, including AARP's Prepare to Care Guides, are available at www.aarp.org/caregiving.