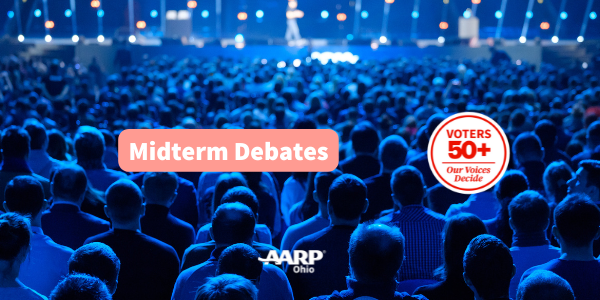 Do Ohio's candidates know the issues that directly affect those age 50+? Now's the time to find out before the mid-term elections this year.

AARP Ohio is sponsoring candidate debates for the U.S. Senate and Governor hosted by the Ohio Debate Commission on Monday, March 28 and Tuesday, March 29.

"We are proud to sponsor the Ohio Debate Commission candidate debates this year for the midterm elections," said Holly Holtzen, Ph. D., state director of AARP Ohio. "AARP is fighting to make sure voters get the information they need to choose candidates based on their views and values. That's why we encourage Ohioans to submit questions for participating candidates on a topic that matters most to them."

Continuing historic patterns, Ohioans aged 50 and older are expected to be a majority voting bloc in the 2022 races. In 2020, 50-plus voters accounted for 57.6 percent of all Ohio votes.

Join us LIVE on Facebook or YouTube at the schedule times below to see which candidates understand the issues that impact older Ohioans.

Ohio U.S. Senate Democratic Primary Debate
Monday, March 28, 2022
11:30 a.m. to 12:30 p.m.
Watch the debate on YouTube
Ohio U.S. Senate Republican Primary Debate
Monday, March 28, 2022
7 p.m. to 8:30 p.m.
Watch the debate on YouTube
Ohio Gubernatorial Democratic Primary Debate
Tuesday, March 29, 2022
7 p.m. to 8 p.m.
Watch the debate on YouTube
These are not an AARP events. Any information you provide to the host organizations will be governed by its privacy policy. AARP is strictly non-partisan and does not support, endorse or contribute to political candidates or parties. Our role is connecting voters to information about where the candidates stand on issues most important to them including the future of Social Security and other critical issues related to the financial security, health and well-being.