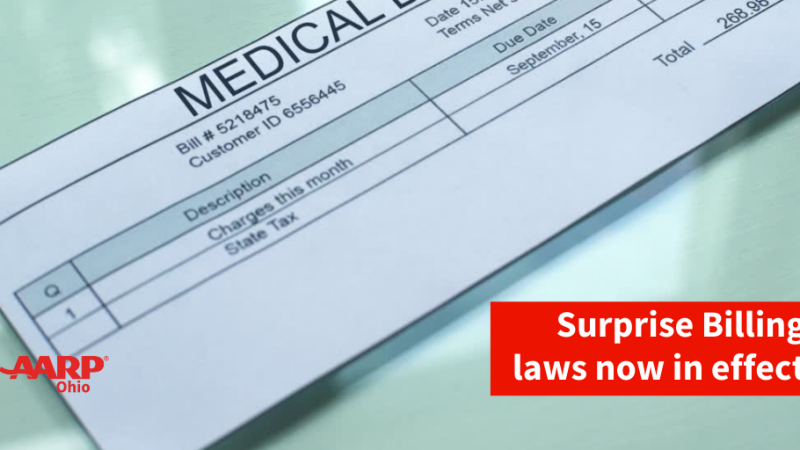 Two laws — one state, one federal — created to address surprise hospital billing went into effect recently and now patients who seek treatment must be notified if a provider is out of their insurance network. Ohioans will no longer be stuck with expensive out-of-network bills from providers they didn't choose or had no control over.

In Ohio, between 11 and 18 percent of emergency department visits result in at least one surprise medical bill. AARP Ohio supported HB 388 sponsored by State Rep. Holmes, Regarding Out-of-Network Care, to ensure that Ohioans are protected from these unfair billing practices, regardless if they are receiving in-network or out-of-network care.

The state law:

Requires an insurer to reimburse an out-of-network provider:


for unanticipated out-of-network care provided at an in-network facility;
for emergency services provided at an out-of-network emergency facility;
for emergency services provided in an out-of-network ambulance;
for clinical laboratory services provided in connection with unanticipated out-of-network care or emergency services.

Prohibits a provider, facility, emergency facility, or ambulance from balance billing a patient for unanticipated or emergency care as described above when that care is provided in Ohio.
Provides that a covered person's cost-sharing responsibility for the services described above cannot be greater than if the services were provided in network.
Establishes the default reimbursement rate as the greatest of the in-network rate, the out-of-network rate, or the Medicare rate and establishes procedures by which payees (providers, facilities, emergency facilities, and ambulances) may seek to negotiate the reimbursement in lieu of the default reimbursement rate.
Permits certain payees to seek arbitration if negotiation is unsuccessful, establishes criteria to be eligible for arbitration, and establishes procedures for the conduct of the arbitration.
Requires the Superintendent of Insurance to select an arbitration entity to conduct arbitrations under the act using specified criteria.
Requires a provider to disclose certain information to patients regarding the cost of out- of-network services that are not unanticipated out-of-network care or emergency services.
Subjects payees and insurers to penalties for failure to comply with the act's requirements.
The federal No Surprise Act, sponsored by Sen. Sherrod Brown, also restricts surprise billing for patients in job-based and individual health plans who get emergency care, non-emergency care from out-of-network providers at in-network facilities, and air ambulance services from out-of-network providers. The federal legislation is not applicable to Medicare policy holders.

The law also establishes an independent dispute resolution process for payment disputes between plans and providers, and provides new dispute resolution opportunities for uninsured and self-pay individuals when they receive a medical bill that is substantially greater than the good faith estimate they get from the provider.

If you get health coverage through your employer, a Health Insurance Marketplace, or an individual health insurance plan you purchase directly from an insurance company, these new rules will:

Ban surprise bills for most emergency services, even if you get them out-of-network and without approval beforehand (prior authorization).
Ban out-of-network cost-sharing (like out-of-network coinsurance or copayments) for most emergency and some non-emergency services. You can't be charged more than in-network cost- sharing for these services.
Ban out-of-network charges and balance bills for certain additional services (like anesthesiology or radiology) furnished by out-of-network providers as part of a patient's visit to an in-network facility.
Require that health care providers and facilities give you an easy-to-understand notice explaining the applicable billing protections, who to contact if you have concerns that a provider or facility has violated the protections, and that patient consent is required to waive billing protections (i.e., you must receive notice of and consent to being balance billed by an out-of-network provider).

If you have questions about a bill you have received, both the federal and state governments offer online resources and telephone hotlines for consumers looking to learn more or get help after receiving surprise bills: