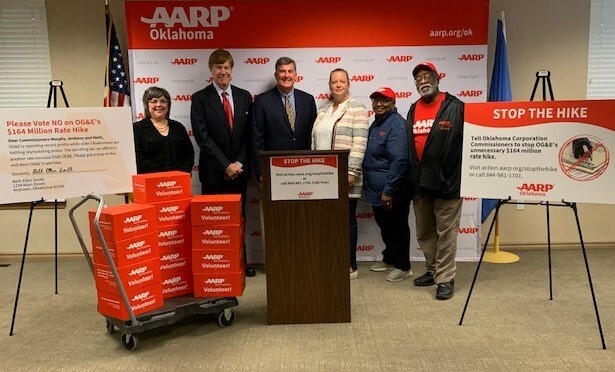 AARP Oklahoma leadership and volunteers are sending nearly 7,000 petitions to Oklahoma Corporation Commissioners Murphy, Hiett and Anthony. The petitions from OG&E customers urged the commissioners to deny OG&E's proposed $164 million OG&E rate hike which would cost customers approximately $10 per month.

"OG&E's proposed $164 million utility rate hike is unreasonable and unfair. AARP Oklahoma wants the commissioners to reject the rate hike and give consumers an $18 million rate decrease," AARP Oklahoma State Director Sean Voskuhl said.

Voskuhl said customers cannot afford back-to-back rate increases. The corporation commissioners granted an OG&E rate increase in December 2021. And, Voskuhl said OG&E reported soaring profits of $1.52 billion in 2021 and in the first quarter of 2022, reported a profit of $279.5 million.

Voskuhl, AARP Oklahoma State President Jim Randall and AARP Oklahoma volunteers reported petitions came from all across the state and the team worked to ensure they were made part of the public record for commissioners Murphy, Hiett and Anthony to review.

Voskuhl said many postcards have handwritten notes pleading for commissioners to deny the rate hike. "Our hope is the commissioners will look through the petitions and fully understand the magnitude of their decision should they choose the wants of OG&E over the needs of everyday Oklahomans," he said.

Randall, an OG&E customer, said he stands with the thousands of Oklahomans telling Corporation Commissioners Murphy, Hiett and Anthony, "Enough is enough."

He said Oklahomans watch every penny as food, medicine and gas prices climb. "No doubt Oklahomans, especially those on fixed incomes, will have to make difficult decisions," Randall said. "People I know have told me they would have to choose between food, medical care or paying ridiculous utility bills."

Randall said as OG&E customers face skyrocketing prices, OG&E is reporting soaring profits.

"I find the back-to-back rate hikes unconscionable as OG&E profits off the backs of hard-working Oklahomans." he said.

AARP Oklahoma utility attorney Deborah Thompson said the rate case begins on June 14 before the corporation commission to hear the OG&E $164 million rate case. In addition to opposing the overall rate increase, AARP is fighting OG&E's attempt to implement so-called performance based rates. AARP also opposes OG&E's plan to shift more of a residential customer's bill to a fixed charge, which is the amount charged before you even flip on a light switch.

Voskuhl and Randall urged OG&E customers to tell Corporation Commissioners Murphy, Anthony and Hiett to stop the OG&E rate hike and instead figure out a way to lower customer bills. AARP's analysis shows that based on current collections customers are due at least an $18 million rate decrease.

Oklahomans can make their voices heard and tell the corporation commissioners to deny OG&E's $164 million rate hike by visiting action.aarp.org/stopthehike to email or calling (toll-free) 844-981-1701.