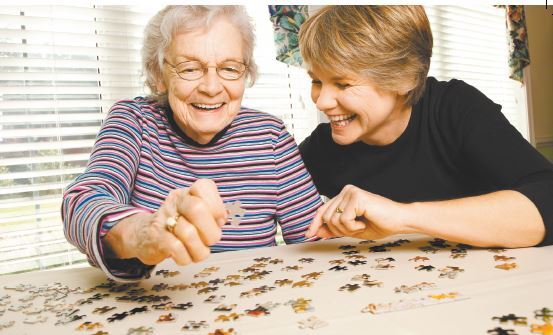 AARP Oklahoma is urging state lawmakers to support a new bill to provide unpaid family caregivers of older adults a much-needed tax break.

The Caring for Caregivers Act, HB 3371 by Rep. Tammy West would provide financial relief to family caregivers who pay for items such as home safety modifications, medical equipment or home health care to help keep their loved ones at home. It would also help mitigate more costly taxpayer-funded nursing home expenses.

Family caregivers often spend considerable income providing care for an older parent or loved one. Collectively, they save the state billions of dollars by providing unpaid care for their loved ones. The COVID-19 pandemic has shown how much these unsung heroes are needed and the invaluable role they play. The Caring for Caregivers Act recognizes that hard work and sacrifice and assists those stepping up to the plate to care for their loved ones.

"Family caregiving can be physically, emotionally and financially challenging," said Sean Voskuhl, state director of AARP Oklahoma, which serves nearly 400,000 members age 50 and older across the state. "This tax credit could help make their difficult responsibilities a little bit easier."

The Credit for Caring Act would create a tax credit equal to 50% of family caregivers' expenses up to $2,000. That amount increases to $3,000 if the family member cares for a veteran or a loved one who has Alzheimer's or related dementia. Eligible expenses include home modifications such as installing a ramp, durable medical equipment, assistive technologies, home health and more.

"Family caregivers save the state money by keeping their parent or other loved ones at home, but they pay the price," said Rep. West. "We know that caring for loved ones with Alzheimer's can be especially difficult. My bill is a great way to show our support as a state to all caregivers, especially to those caring for a veteran or a loved one with Alzheimer's. It simply does not make sense to tax their efforts."

AARP recently surveyed Oklahomans age 50-plus and found that across party lines, a strong majority, 87.2%, of registered voters age 50-plus support a tax credit for family caregivers. Full polling results and infographics can be found at www.aarp.org/okcares.

AARP's Voskuhl added, "We are hearing from family caregivers all over the state who want to see their lawmakers take action. We urge the Oklahoma legislature to pass the Credit for Caring Act this session and let Oklahomans across the state know that we support the work they are doing."

Oklahomans can send their state representative and senator an email in support of this act by visiting action.aarp.org/okcares or calling 844-641-2470 (toll-free).
.