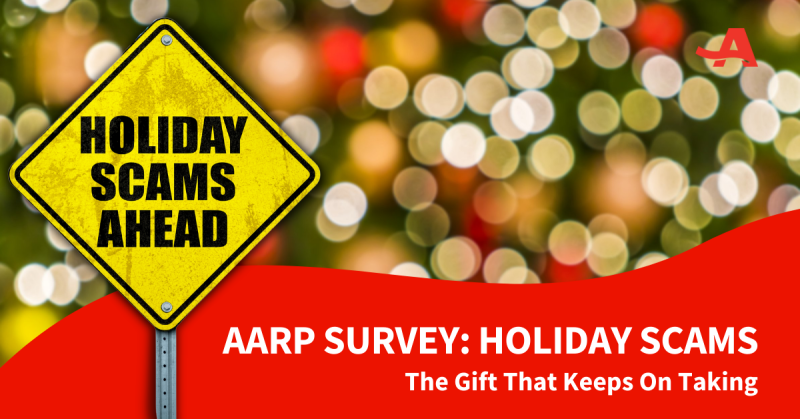 According to a newly released AARP Fraud Watch Network survey, many Oklahomans may be opening themselves up to fraud risks as they shop this holiday season. Popular holiday scams include online shopping scams, scams involving gift cards and shipping scams, according to survey results.

Key findings from the survey:


78% of Oklahomans have been targeted by or experienced at least one form of fraud in the past.
71% of Oklahomans will use their debit cards this holiday season (credit cards and digital wallets are safer online).
61% of Oklahomans plan to purchase gift cards as a holiday gift, and 60% purchase gift cards off the rack. Scammers are known to tamper with off-the-rack cards.
53% of Oklahomans intend to use peer-to-peer (P2P) apps like Venmo, Zelle or Cash App to send money, and 46% of P2P users have sent money to someone they didn't know well (not recommended).
38% of Oklahomans reported receiving a request for a monetary donation to a charity that felt fake or fraudulent.
35% of Oklahomans have received a fake notification about a shipping issue.
"The holiday season is a time for togetherness, celebration and giving," said AARP Oklahoma State Director Sean Voskuhl. "Unfortunately, the gift-giving process, from purchasing the perfect gift to making sure it gets to the recipient, also brings many opportunities for scammers to enrich themselves."

Survey findings also show many Oklahomans do not know how to shop online safely. For example, just 37% know P2P apps do not have the same consumer protections as a credit card, and only 40% know that using a credit card offers greater protection than using a debit card.

"Ultimately, the point is not to take the joy out of this time of year or take the fun out of gift-giving, but to help consumers be aware so they can protect themselves and their loved ones," said Voskuhl. "This holiday season, serve your holiday cheer with a side of skepticism to help stay safe from increasingly sophisticated scammers."

In keeping with trends toward more online shopping during the pandemic, consumers should take the following precautions to safeguard their money and protect their identity:


Consider alternatives to front-door package delivery – see if the carrier can hold packages at its closest location or request that the carrier put packages in a place not readily seen from the street.
Keep device operating systems and antivirus programs up to date.
Recognize that online ads about unbelievable sales or options too good to be true likely should not be believed.
When buying gift cards, order online directly from the issuer, whether a direct retailer, restaurant or other entity. Scammers can tamper with gift cards that are available on openly accessible store racks.
If you are not familiar with the individual or business, do not use P2P apps like Cash App, Zelle, and Venmo to make purchases.
Avoid using debit cards online; credit cards offer better protection in the event of fraud.

About AARP Fraud Watch Network:The AARP Fraud Watch Network was launched in 2013 as a free resource for people of all ages. Consumers may sign up for "Watchdog Alert" by email or text that deliver information about scams or call a free helpline at 877-908-3360 to report scams or get help from trained volunteers in the event someone falls victim to scammers' tactics. The Fraud Watch Network website provides information about fraud and scams, prevention tips from experts, an interactive scam-tracking map and access to AARP's hit podcast series, The Perfect Scam.