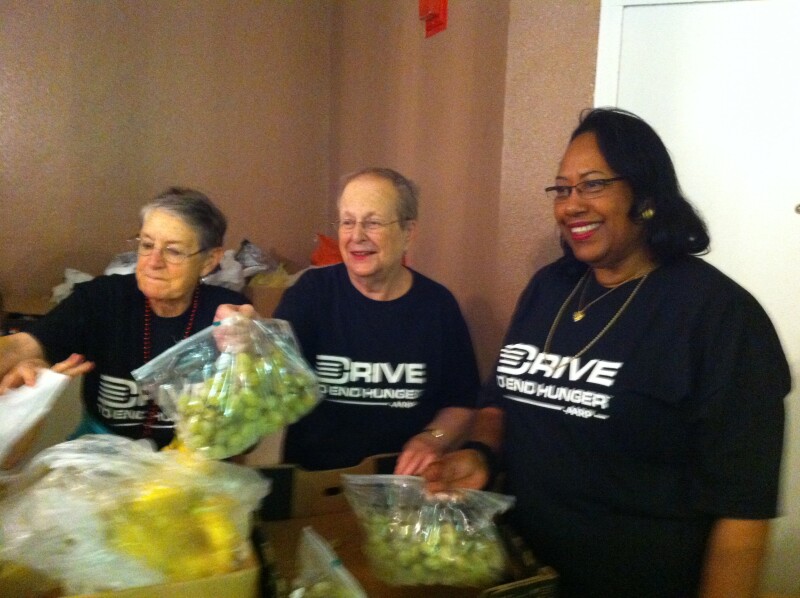 As part of Drive to End Hunger, Oklahoma partnered with the Community Food Bank of Eastern Oklahoma on a year-long plan that resulted in the creation and launch of the first dedicated hunger program for seniors in that area.
"Senior Servings" is the first program of its kind to provide fresh produce, bread and non-perishable food sacks to 160 low income seniors twice a month in three "food desserts" in Tulsa, Osage and Nowata counties.
"AARP is leading the way nationally on senior hunger issues," said Eileen Bradshaw, Executive Director of the Community Food Bank of Eastern Oklahoma. "They came to us and said 'here's the issue, what can we do to fix it?' That's how Senior Servings was born and AARP has been in lock step with us ever since. We had wanted to address senior hunger for a long time but it took AARP to help get us off high center."
Bradshaw noted that as a result of the launch, additional community partners have joined the effort to provide funding that will ensure Senior Servings is sustainable. Temple Israel, which has actively supported childhood hunger programs at the food bank, recently raised nearly $20,000 for Senior Servings. Additional partner support has also been provided by the Hilley Family Foundation.
Local elected officials including mayors, county commissioners and state legislators attended Senior Servings launch events in Pawhuska, Nowata and Tulsa.
Earlier this year, AARP Oklahoma partnered with the Regional Food Bank of Oklahoma to help expand their Senior Mobile Pantry Program to five additional sites in central Oklahoma, including in its Community Presence target city of Shawnee.
0000016b-01a0-dd13-abeb-61ef636e0000
http://www.youtube.com/watch?v=Ni2BhMW0z3A&feature=share&list=UUUFsrj4nWGquyBCwkx4KANg
[/youtube]
(AARP Photo)