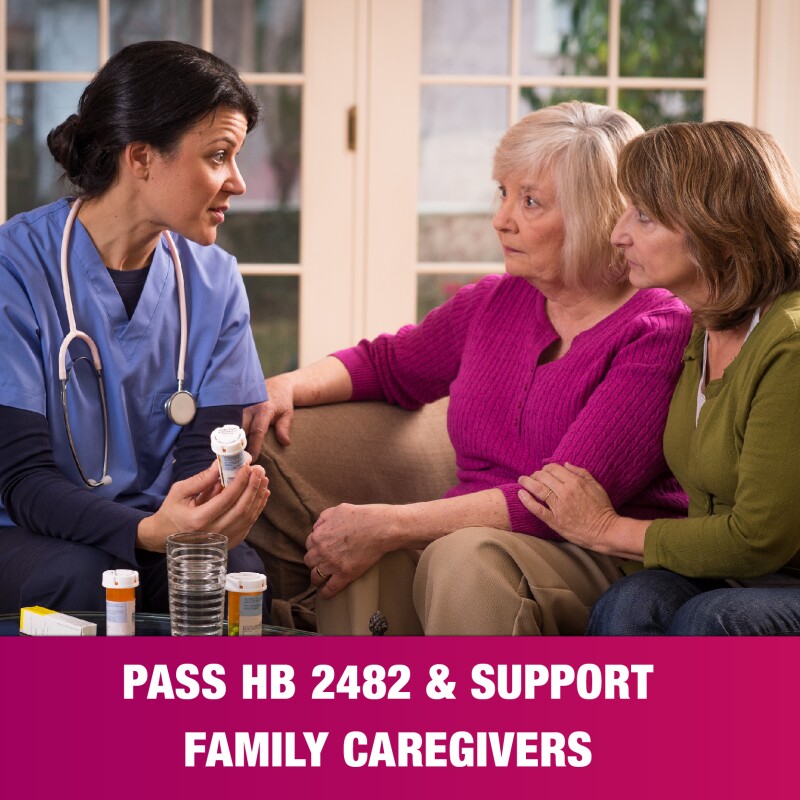 The Oklahoma legislature is currently considering House Bill 2482 by Representative Pat Ownbey and Senator Frank Simpson that would update state law, creating a nurse licensure compact, to allow nurses to care across state lines. This no-cost, commonsense solution would create opportunities for nurses with licenses in neighboring states to practice in Oklahoma.

"Allowing registered nurses to practice across state lines may prove critical to improving access to health care in rural Oklahoma and across the state," says Sean Voskuhl, director of AARP Oklahoma, which backs HB 2482. "It would also support Oklahoma's 524,000 family caregivers who help older parents, spouses and other loved ones live independently at home—and out of costly, taxpayer-funded institutions." Family caregivers in Oklahoma provide an estimated $6 billion in unpaid care annually.

According to the most recent Quarterly Poll conducted by SoonerPoll, a strong majority (84%) of likely voting Oklahomans support allowing registered nurses to care across state lines by creating a nurse licensure compact for Oklahoma.

Do you support or oppose a proposal for Oklahoma to become part of the nurse licensure compact so registered nurses can have the ability to practice across state lines?
























| | |
| --- | --- |
| 1. Strongly support | 50.5 |
| 2. Somewhat support | 33.6 |
| 3. Neutral/no opinion [DNR] | 11.9 |
| 4. Somewhat oppose | 3.1 |
| 5. Strongly oppose | 0.9 |
"Democrats, Independents and Republicans all strongly support the idea of a nurse licensure compact, with no significant differences among liberals, moderates, or conservatives," explained Bill Shapard, founder of SoonerPoll. "Support was also strong whether the voter lived in an urban or rural area of the state.

"Our society is much more mobile than it once was," added Shapard. "Allowing registered nurses to travel just across the state line to provide care is a must for our more mobile society that we now live."

AARP Oklahoma is urging state legislators to pass HB 2482 this session.

"For AARP Oklahoma, supporting family caregivers and their loved ones is a top priority," concluded Voskuhl. "HB 2482 will help increase access to health care for all Oklahomans, and will help make the often overwhelming, stressful and exhausting lives of family caregivers a little bit easier."

About the Poll

SoonerPoll.com, Oklahoma's public opinion pollster, asked these questions of Oklahoma likely voters as part of the SoonerPoll Quarterly Poll.

The scientific study was conducted from February 9-12, 2016 with 410 likely Oklahoma voters selected at random statewide from a dual frame of both landline telephone and cell phones. The sample was weighted by age, congressional district and gender in order to reflect the Oklahoma likely voter population for a general election.

The sample reflects the traditional demographical profile of the Oklahoma likely voter with roughly half of respondents identifying as conservative and attending religious services once or more per week. The study has a Margin of Error (MoE) of ± 4.84 percent and was commissioned by the AARP.

This poll not only conforms to the Standards of Disclosure of the National Council on Public Polls but exceeds the standard disclosure with a Call Disposition and Rate Calculation Report. A complete description of the methodology can be found here.

AARP is a nonprofit, nonpartisan organization, with a membership of nearly 38 million, that helps people turn their goals and dreams into real possibilities, strengthens communities and fights for the issues that matter most to families such as healthcare, employment and income security, retirement planning, affordable utilities and protection from financial abuse. We advocate for individuals in the marketplace by selecting products and services of high quality and value to carry the AARP name as well as help our members obtain discounts on a wide range of products, travel, and services. A trusted source for lifestyle tips, news and educational information, AARP produces AARP The Magazine, the world's largest circulation magazine; AARP Bulletin; www.aarp.org; AARP TV & Radio; AARP Books; and AARP en Español, a Spanish-language website addressing the interests and needs of Hispanics. AARP does not endorse candidates for public office or make contributions to political campaigns or candidates. The AARP Foundation is an affiliated charity that provides security, protection, and empowerment to older persons in need with support from thousands of volunteers, donors, and sponsors. AARP has staffed offices in all 50 states, the District of Columbia, Puerto Rico, and the U.S. Virgin Islands. Learn more at www.aarp.org/ok.