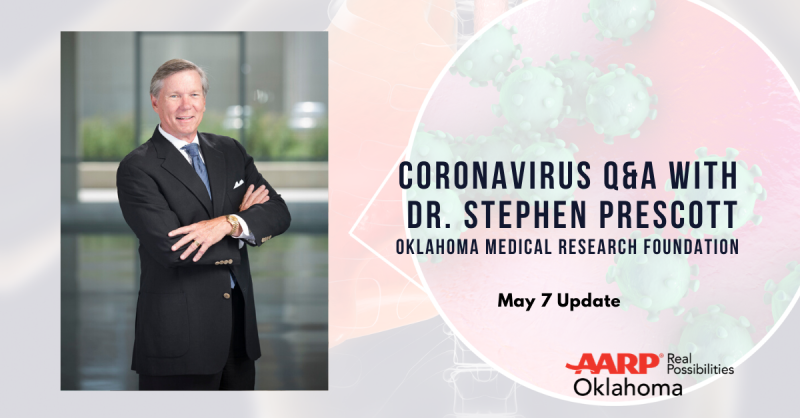 Dr. Stephen Prescott, Oklahoma Medical Research Foundation president, answers your medical questions about coronavirus and Covid-19.

What is an antibody test? What impact do the results from antibody tests have on resumption to a normal day-to-day life?

Antibody tests can tell whether you've previously been exposed to a virus. The idea behind antibody testing is that viral exposure translates into at least some resistance against becoming reinfected with that virus. But with COVID-19, we don't yet know if this is the case. In addition, a recent study of antibody tests now available found that few produce reliable results. Until we have tests that produce reliable results – and we know what those results mean in terms of guarding us against reinfection – they won't be much help in guiding our behavior.

Are saliva tests as accurate as nasal swab and/or blood tests?

Saliva tests could potentially replace nasal swabs as a method of diagnosing current coronavirus infection. (The blood tests are for antibodies, which only show whether you've been infected in the past.) Swab testing has been plagued by so-called false negatives, which is when a test says you're not infected, but, in fact, you are. When it comes to accuracy, early results for saliva testing have been promising, and further studies are now underway to determine whether saliva tests provide as good, or better, results than nasal swabs. Plus, spitting into a cup sure beats having a long swab inserted deep into your nose.

Are at-home COVID-19 test kits available?

Yes, at-home, mail-in tests are available. However, as I write this, only one has received FDA approval: the Pixel test by LabCorp. If you choose to test at home, make sure this is what you get.

I frequently hear the term "contact tracing." What does that mean, and why is it important?

In contract tracing, health workers (basically, disease detectives) interview people diagnosed with COVID-19 to identify people they've recently been in close contact with. The workers then inform those folks of their potential exposure to the virus and urge them to get tested or self-isolate. This work is key to preventing new spikes of the virus; if done rapidly and well, it can contain outbreaks before they grow out of control.

I have recovered from COVID-19. Am I now immune to the disease?

We hope so, but we don't know for sure. With so much uncertainty surrounding this virus, you'll be safest to continue to operate as if you can get reinfected. Masks, social distancing and frequent handwashing, are no fun, but until there's a vaccine, they're our best defense.


Related articles:
Coronavirus Q&A with Dr. Stephen Prescott: April 28 Update
Coronavirus Q&A with Dr. Stephen Prescott: April 9 Update
Coronavirus Q&A with Dr. Stephen Prescott: April 2 Update
Coronavirus Q&A with Dr. Stephen Prescott: March 26 Update


AARP and the coronavirus

AARP has been working to promote the health and well-being of older Americans for more than 60 years. In the face of this pandemic, AARP is providing information and resources to help older people and those caring for them protect themselves from the virus and prevent it spreading to others. AARP is compiling facts and resources about coronavirus and how you can protect yourself. We're updating this information as rapidly as we can to ensure our AARP members have the information they need at www.aarp.org/coronavirus.