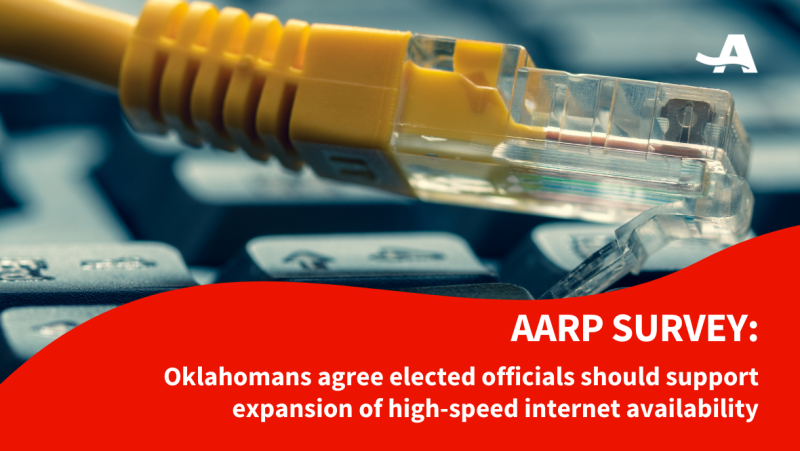 AARP Oklahoma is continuing its support to expand access to affordable and reliable high-speed internet. According to a new AARP survey, voters age 50-plus overwhelmingly agree that Oklahoma elected officials should expand their efforts to ensure that high-speed internet is available to all Oklahomans, especially those in rural parts of the state. 

 Some voters, especially those in rural areas, report that access to high-speed internet is a problem in their local communities and that quality, cost, and/or availability have limited their home internet use. 

 "High-speed internet is a necessity," said Oklahoma State Director Sean Voskuhl. "It can reduce the risk of social isolation, provide access to important services including telehealth, enable online work and education and help local businesses better serve their customers."

 The survey's key findings show strong support for action to expand high-speed internet access:


78% of voters agree that elected officials in Oklahoma should work to ensure that high-speed internet is available to all Oklahomans.
Nearly nine in 10 voters believe the following issues are important reasons for the state to invest in developing high-speed Internet:
88% to improve access to education 
86% to improve access to online healthcare
87% to prevent social isolation among older adults
85% to help businesses be competitive  
74% of Oklahoma voters age 50-plus support state action to offer incentives to internet providers to expand high-speed internet service to rural areas that do not currently have access.
The survey also largely points to widespread internet reliance:

86% of Oklahoma registered voters age 50+ use the internet. Among internet users, 95% use it at home.
Compared to before the COVID-19 pandemic, 27% of home internet users say that their household uses the internet more at home.


73% made online purchases
69% used the internet to schedule a healthcare appointment, order prescriptions, get health information or attend an online healthcare appointment
70% used social media
61% paid bills online
The survey finds rural areas face more challenges: 

61% of rural voters note local access problems, compared to 41% of nonrural voters.
78% support allowing rural electric cooperatives to offer high-speed internet to their customers.
Rural internet users report experiencing more home internet problems in the past 12 months related to bandwidth and multiple users than nonrural users (30% vs. 18% bandwidth, and 29% vs. 16% multiple users, respectively).
The types of home internet connections reported by rural internet users contrast sharply with the types of connections reported by nonrural users. 
59% of nonrural home internet users have a cable or fiber optic internet connection; only 33% of rural home internet users claim the same. 
78% of home internet users say they do not have a fiber optic internet connection at home, generally the fastest type of internet service. 
When asked to indicate their "major" reason for not having fiber, four in 10 cite lack of availability. 

The full report and infographic is available at aarp.org/okhighspeedinternet. The AARP telephone survey was conducted among 1,218 registered voters ages 50 plus in Oklahoma. Forty percent of the respondents were reached on a mobile phone. The survey was administered by Alan Newman Research between July 19, 2021, to August 3, 2021.

For more information, contact S. Kathi Brown of AARP Research at skbrown@aarp.org. Media inquiries should be directed to Melanie Henry at mhenry@aarp.org.