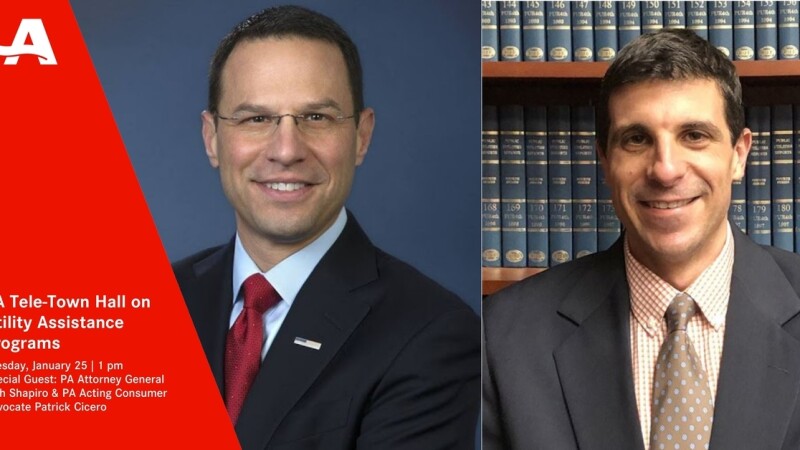 FOR IMMEDIATE RELEASE:  January 26, 2021   

CONTACT:  Randy LoBasso, rlobasso@aarp.org, 267-964-8001  

Pennsylvanians can take advantage of expanded heating programs this winter

AARP Pennsylvania hosted a tele-town hall on Tuesday, January 25th, featuring Pennsylvania Attorney General Josh Shapiro and Acting Consumer Advocate Patrick Cicero to help its 1.8 million members and all Pennsylvanians know how and where to access utility assistance programs.

AARP Pennsylvania knows that many residents will struggle to afford higher heating bills this winter. In addition to higher heating costs, the coronavirus pandemic has had a wide-ranging impact on the state of Pennsylvania. It has left some of our most vulnerable friends, family, and neighbors facing potentially long-lasting financial troubles.

The Tele-Town Hall was moderated by AARP Pennsylvania's Consumer Issues Task Force Chair Mary Bach, who welcomed participants, took their questions, and assisted the Office of Consumer Advocate (OCA) in informing participants how to access appropriate utility assistance resources and programs that are available to help Pennsylvanians, especially those living on fixed incomes.

"At the OCA, our attorneys and staff are advocating every day for the interests of all Pennsylvanians to ensure that you have access to reliable, affordable, and sustainable energy and utility services at just and reasonable rates and at fair terms," said Acting Consumer Advocate Cicero. "We know that utility service is essential to the health and welfare of all of us and that many Pennsylvania households are struggling with rising energy and utility costs this winter." 

One of the programs highlighted on the call was the Low-Income Home Energy Assistance Program (LIHEAP), a federally funded program that helps in managing costs associated with home energy bills, energy crises, weatherization, and energy-related minor home repairs. The program is available to both homeowners and renters.

"This is the time of year when we need to make sure that every Pennsylvanian can heat their home - and it's important for our seniors to know that Pennsylvania has more funding than ever to help lower heating costs," said Attorney General Shapiro. "The Office of Attorney General and the Office of Consumer Advocate are here to help residents get connected with these important programs."

With the recent passage of the federal American Rescue Plan Act, LIHEAP received a $500 million boost in additional funds. This boost is helping to extend the LIHEAP season into May 2022 while increasing the cash grant amount for families and individuals.

"If you are concerned about rising heating and utility costs, please know that help is available," Cicero continued. "You can apply for grant assistance from LIHEAP to help pay bills and avoid loss of service. If your furnace breaks down this winter, you may also be able to get help through LIHEAP to have your furnace repaired or replaced at no cost to you. Assistance is also available through your gas and electric company. Please reach out to them and ask about their assistance programs that help lower your bills and provide assistance with energy efficiency for your home."

AARP has consistently advocated in state legislatures across the country to establish and sufficiently fund independent state utility consumer advocate offices. Once in place, we then fight to fully fund and strengthen them - to make sure the offices are working for you. Today, most states have created consumer advocate offices. In Pennsylvania, the General Assembly created the Office of Consumer Advocate in 1976. It is an independent office within the Office of Attorney General.

AARP Pennsylvania was pleased to provide Pennsylvanians with the opportunity to discuss with the OCA consumer protections and other issues related to utility services, costs and assistance programs. The OCA, along with AARP, fights for reliable and affordable utility services for Pennsylvanians. If you have any questions or need help determining if you qualify for a utility-related program, you can call the Acting Consumer Advocate's office toll free at 1-800-684-6560 or review AARP's utility resource guide.

###

About AARP

AARP is the nation's largest nonprofit, nonpartisan organization dedicated to empowering people 50 and older to choose how they live as they age. With a nationwide presence and nearly 38 million members, AARP strengthens communities and advocates for what matters most to families: health security, financial stability and personal fulfillment. AARP also produces the nation's largest circulation publications: AARP The Magazine and AARP Bulletin. To learn more, visit www.aarp.org, www.aarp.org/espanol or follow @AARP, @AARPenEspanol and @AARPadvocates, @AliadosAdelante on social media.