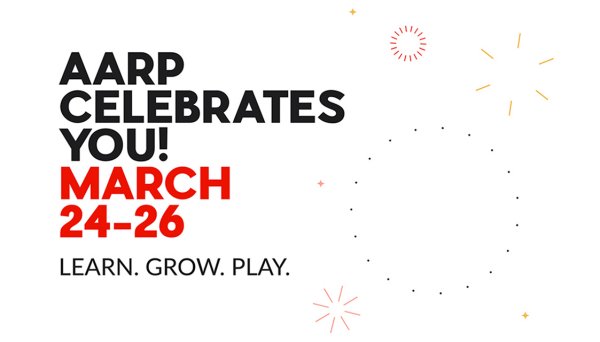 AARP Pennsylvania is excited to participate in a nationwide AARP Celebrates You Event on Friday, March 25th! The AARP Celebrates You celebration runs from March 24th-26th with an amazing lineup of exciting virtual events designed to help you stay healthy and happy.

These past two years? Wow! You've planned and protected. Cared and connected. And new challenges ahead? You've got this. So, let's celebrate YOU with the kind of event only AARP could throw!

Join AARP Pennsylvania and thousands of friends from across the country for a virtual celebration, including a Moving with Milly fitness session, an interactive Tour of the Andy Warhol Museum, and more! Participation is free. Membership is not required, but you must register for AARP Celebrates You in order to participate.


· MOVING WITH MILLY - Friday, March 25th: 9:30am: Improve your strength and balance with simple exercises that can be done sitting in a chair. Moving With Milly combines fun and fitness as the instructor leads you through a low-impact routine. Please consult your physician before beginning any exercise program.

· ANDY WARHOL'S LIFE AND TIMES Join as we go behind the scenes of the Andy Warhol Museum. You'll see artwork rarely on display and learn about the legendary artist's childhood in Pittsburgh, his early career as a commercial illustrator, and his transition into pop art in the 1960s.

To register, follow the link here to the AARP Celebrates You landing page and register by logging into your AARP online account or creating a new one. These sessions will both happen on Day 2, Friday, March 25. To find these sessions on the schedule, click on DAY 2 at the top of the page and navigate to TASTE OF THE AARP VIRTUAL COMMUNITY CENTER. You can participate in ANY session during the three-day event once you are registered.