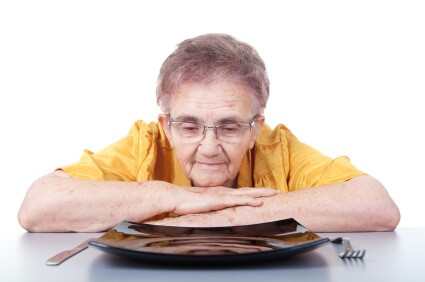 National and local experts came together recently to attend a roundtable discussion to address the growing issue of hunger among older adults in Philadelphia. Hosted by AARP Pennsylvania and the AARP Foundation, experts representing organizations such as Philabundance, Greater Philadelphia Coalition Against Hunger, Share Food Program and others joined local officials to discuss various ways to break down barriers to connect older adults to food assistance across the city.

In Philadelphia over 330,000 people are at risk for hunger, and nationally nearly 9 million older adults face food insecurity. More older adults are experiencing hunger and are more at risk since the recession began. "In communities across the city, trusted organizations have been doing a heroic job of helping those who struggle with hunger, but the number of people in crisis is growing every day," says Bill Johnston-Walsh, AARP Pennsylvania State Director. "Through the work being done by hunger advocates across the city and AARP Foundation's "Drive to End Hunger initiative, we are working to raise awareness about the growing problem and develop long-term solutions," says Johnston-Walsh.

The roundtable aimed at raising the awareness among older adults was the first thought leadership round table of its kind hosted by AARP Pennsylvania and was one of several gatherings held by the association, including a meeting held with Philadelphia faith leaders.

A reception honored community organizations who have demonstrated outstanding efforts on the fight to end hunger in the Delaware Valley. "These local organizations are known for their long standing history in using local resources, creativity and passion to make our community a better place," says Johnston-Walsh.

Organizations being honored included WPVI-6 ABC, Food Share Program,and Philadbundance.-
In Philadelphia over 470,000 people participated in the Supplemental Nutrition Assistance Program (SNAP), which provides low-income residents with monthly food assistance to buy food at grocery stores, farmers' markets and small businesses. These glaring statistics among others served as a platform for AARP Pennsylvania in partnership with the AARP Foundation to award several Philadelphia based community organizations micro grants to aid in the costs of serving the vulnerable 50+ in the fight against hunger. Saint John's Hospice, St. Peter's Evangelical Lutheran Church, and the Sunday Breakfast Rescue Mission were selected to receive the micro grants in the amount of $500, used to assist their hunger relief efforts and healthy eating programs in the community among the 50+ population in Philadelphia.

AARP has 1.8 million members in Pennsylvania. Follow AARP Pennsylvania on Facebook at www.facebook.com/AARPPA and on Twitter @AARPPA .