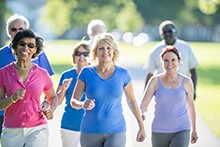 AARP Pennsylvania invites everyone to get active with Pittsburgh City Councilwoman Erika Strassburger at Schenley Park, one of the community's most beautiful assets, on Thursday, July 12. This is a great opportunity to get some fresh air, meet some new people, and hear from a local legislator about current city initiatives. The Venture Outdoors staff have planned a low intensity walk through the park in order to accommodate participants with varying levels of physical fitness.

This walk is free for all individuals 50-plus thanks to the Jewish Healthcare Foundation, but space is limited. Please RSVP to Jen Blatz at jblatz@aarp.org or (412) 508-7304 by Tuesday, July 10 if you plan to join us.



The event details are as follows:

Thursday, July 12, 2018

9:30 a.m. - 11:00 a.m.

Schenley Park Swimming Pool

1 Overlook Drive, Pittsburgh PA 15213



This July 12 event represents the first in a string of AARP-partnered events aimed at getting Pittsburgh community members of all ages out and active this summer. The Pittsburgh-based Jewish Healthcare Foundation, in partnership with Allegheny County Parks Foundation, Pittsburgh Parks Conservancy, AARP Pennsylvania, Lively Pittsburgh and Venture Outdoors has developed innovative programs that are motivating adults to become more active outdoors. Through the Foundation's Senior Connections initiative, older adults of varied abilities are now engaging in regular health-focused walks in several Allegheny County parks. AARP Pennsylvania has worked to recruit senior volunteers that act as park ambassadors to lead hikes, as well as raise awareness of exercise and recreation opportunities within the community.

Along with this event on Thursday July 12, there will be several similar events in the area throughout the summer. Here is a brief list of tentative events. More details are to come in the future.



Park Ambassador Training #1

Friday, July 27

9:00 a.m. - 1:00 p.m.

South Park – Willow Tree Shelter

Walk with Councilman Corey O'Connor Event

Tuesday, August 7

4:30 p.m. - 7:00 p.m.

Frick Environmental Center

2005 Beechwood Boulevard

Pittsburgh, PA 15217

Park Ambassador Training #2

Wednesday, August 15

9:00 a.m. - 1:00 p.m.

North Park – Gold Star Shelter



AARP looks forward to getting active and discussing the current city initiatives that impact the community with you at this event on July 12, as well as at one of the other related events coming up later this summer.