En español | Puerto Rico officials are working to make in-person voting safe amid the coronavirus pandemic, but options like absentee and early voting aren't available to most voters:

Election officials are stocking polling places with hand sanitizer and requiring poll workers to wear masks and practice social distancing.
Absentee ballots will be available to all registered voters who will not be on the island on Election Day, Tuesday, Nov. 3.
Puerto Rico restricts voting early voting to government and election officials scheduled to work on Election Day, police officers who will be on duty, and voters who are 60 years old or over, among others.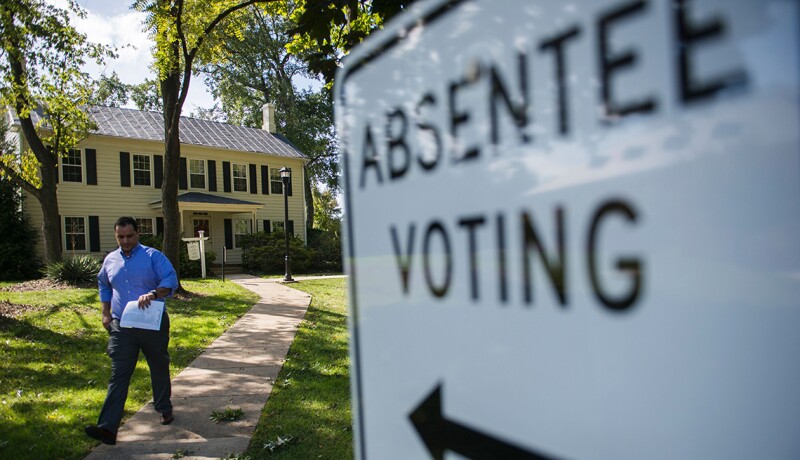 Here's what else you need to know:

How do I register to vote?

You must register to vote in person. You'll need to go to your precinct's or municipality's Permanent Registration Board (also known as a JIP). If you were born in Puerto Rico and are over age 18, you'll need to submit either a photo ID issued by the Puerto Rican or federal government or the last four digits of your Social Security number, along with a utility bill from the Puerto Rico Electric Power Authority (AEE) that confirms your name and address.

If you weren't born in Puerto Rico, the territory's voter information hub maintains a list of the types of ID you'll need to present to register. A passport, a copy of your birth certificate and a municipal, state or federal ID are among the acceptable forms of ID.

You'll need to register by Monday, Sept. 14, to be able to vote on Election Day.

How can I get an absentee mail ballot? Are there important deadlines?

Only certain voters qualify for absentee ballots. Among those able to vote absentee are students, active-duty members of the military and patients receiving treatment for a "catastrophic illness." Voters who will need to be away from Puerto Rico on Election Day for a variety of reasons can also request an absentee ballot. A full list of absentee ballot qualifications is on the territory's voter information portal.

You can request an absentee ballot online, by mail or in person. You can email a completed request form to java@cee.pr.gov, or mail it to the Absentee Vote Administrative Board (also known as JAVA). You can also request an application in person from your local election board.

Requests submitted by mail must be postmarked on or before Friday, Sept. 4. Requests must be received by election officials by Saturday, Sept. 19.

You won't need a witness to vote, but you'll need to sign your ballot before submitting it. Completed ballots must be postmarked by Sunday, Oct. 4.

How do I know my absentee ballot is secure?

The signature on your ballot will be checked against the signature election officials have on file. Puerto Rico also requires you to include personal information, including the names of your mother and father, when submitting an absentee ballot.

When is Election Day? When are polls open?

Tuesday, Nov. 3, which is an official holiday in Puerto Rico. Polls will be open from 9 a.m. to 5 p.m. Check with your local election officials to determine where to cast your ballot.

Can I vote before Election Day?

Only certain Puerto Rico voters will be able to vote on Nov. 2, the day before Election Day: Police officers, firefighters, health care workers, government officials and journalists who will be working on Election Day, along with people who will be hospitalized and unable to make it to the polls. Check Puerto Rico's voter information portal for a full list of early voting qualifications.

What form of identification do I need to vote?

You'll need to present your voter registration card when you cast your ballot in person. If you lose your card, you'll need to go to your local Permanent Registration Board (JIP) or electoral precinct to pick up a new one.

What is being done to make polling places safe from coronavirus?

Hand sanitizer will be available at most polling places, and social distancing will be enforced among voters and poll workers. Poll workers will be asked to wear masks and drops of ink will replace communal inkwells to mark the fingers of voters. Depending on local health requirements, you may be required to wear a mask when casting your ballot.

Will I be able to vote in the same place as I always have?

Not necessarily. An expected shortage of poll workers may force some locations to consolidate. You can use Puerto Rico's voter information portal or call your local election office to find out where to cast your ballot.

What are the key races in Puerto Rico?


Resident Commissioner (non-voting U.S. House member): Incumbent Jenniffer González-Colón (NPP) vs. Aníbal Acevedo Vilá (PDP)
Governor: Pedro Pierluisi (NPP) vs. Carlos Delgado Alieri (PDP)
Puerto Rico House: All 51 seats
Puerto Rico Senate: All 30 seats
As a U.S. territory, Puerto Rico will not cast electoral votes in the 2020 presidential election.
This story was updated on Aug. 31 with more information about early voting. Voting rules and procedures may change before Election Day. We'll update this story if they do, so bookmark this page and check back.

AARP is urging older Americans to ask the candidates 5 key questions:

Just over half of all older Social Security beneficiaries rely on the program for at least 50 percent of their income. If elected, how will you ensure that current and future Social Security benefits are not cut as part of deficit reduction?
Half of the people with traditional Medicare spend at least a sixth of their income on health care. If elected, how will you protect Medicare from benefit cuts, as well as lower health care costs and ensure seniors continue receiving the affordable health care they have earned?
COVID-19 has caused death and suffering for too many older Americans who require long-term care. If elected, how will you make sure seniors can access safe and affordable long-term care at home, as well as in facilities like nursing homes and assisted living?
Also of Interest