2019 Back to School Celebration
<
Click here to view Back to School photos
Working Together to Build Strong Communities
AARP Rhode Island and a tireless group of volunteers is dedicated to working with community partners to create Livable Communities. In the past, "Livable Communities" seemed to be about building neighborhoods that were accessible to old people. The term was associated with "Aging in Place," which was misunderstood to mean "allowing old people to live in their homes to the very end." This is not where we are today. Building Livable Communities means people of all ages taking an active, holistic role in improving the neighborhoods we live in today so that we can live there healthier, safer and happier for as long as we so choose.
FUN FOR ALL AGES IN EAST PROVIDENCE!
#AARPRI (hexadecimal #ffffff)
An AARP Community Challenge Grant covered the cost of the game tables and benches that make the new splash pad at Onna W. Moniz-John Park in East Providence a truly Age-Friendly place. It opened June 28 -- a scorcher -- and was an instant hit.

#AARPRI (hexadecimal #ffffff)
AARP IS INVESTED IN COMMUNITIES IN RHODE ISLAND AND NATIONWIDE
#AARPRI (hexadecimal #ffffff)
Part of AARP Rhode Island's effort has been formation of a community partnership group in the Elmwood-West End section of Providence. At regular meetings we share ideas and explore paths to work together to get things done. If you would like to learn more, contact Darlene Reza Rossi at 401-248-2674 or send her an email. #AARPRI
Our Community Partners Include
The Elmwood and South Providence Neighborhood Crime Watch
Doug Victor, Chair Doug.crimewatch@gmail.com
Back to School Celebration of Rhode Island
Jorge Cardenas, President back2schoolri@gmail.com www.btscri.org
Friends of Peace and Plenty Park
Doug Victor, Lead. Doug.crimewatch@gmail.com
Friends of Knight Memorial Library
Deborah Schimberg, President Deborah@gleegum.com www.provcomlib.org
Peace and Plenty Community Garden
Doug Victor, Lead. Doug.crimewatch@gmail.com
Southside Community Land Trust
Jenny Boone, Grants & Outreach Manager jenny@southsidelt.org www.southsideclt.org
In 2015, We Dug in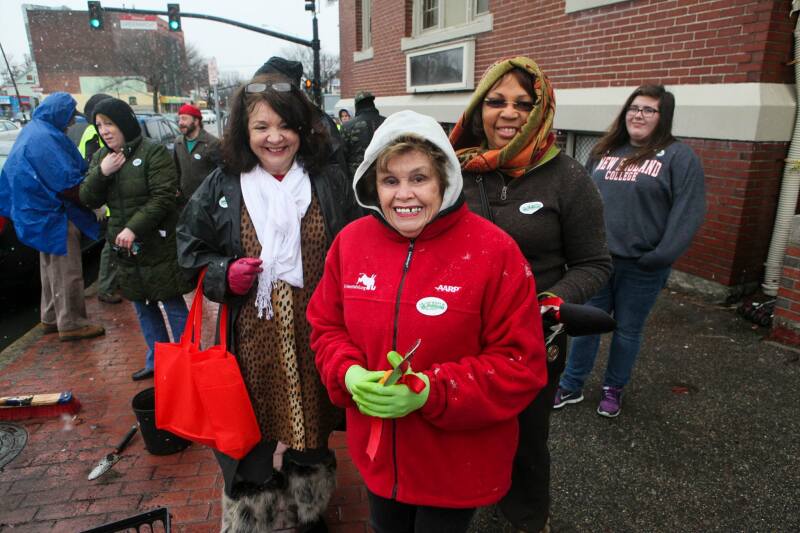 A wondrous thing happens when you plant a seed. Tomorrow, dozens of volunteers along with state and city officials will plant 100 juniper shrubs in the Elmwood Avenue section of Providence. The plants, sprung from lowly seeds in some distant greenhouse, will come of age symbolizing something special. The saga begins last year with the well-intentioned idea that metal basket planters along the business district's sidewalks would improve curb appeal, making the space look more like a part of the neighborhood and less like a disjointed urban commercial strip. Unfortunately, without public funds for plants, human nature took its course and the empty containers became de facto trash receptacles, often overflowing and producing the opposite of the aesthetic they were designed to promote. Thanks to donated plants and voluntary labor, we will be welcoming spring by changing that landscape to something much greener.
WATCH THE PLANTING VIDEO
A TREE GROWS IN PROVIDENCE - PART II In May, AARP volunteers returned to Elmwood Avene in Providence where, in 2015, they joined other neighborhood activists in the planting of 99 junipers in neglected sidewalk containers. Here is the full story, as published in the Providence Journal. Alas, some of the original plants did not flourish. That is to say, they died. Thanks to many helping hands, the fatalities have been replaced by new, drought-resistant plants that will be regularly watered by volunteers and Elmwood Avenue business owners. Great job everybody!

#AARPRI (hexadecimal #ffffff)