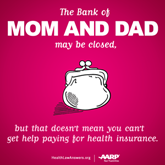 AARP has launched an e-card campaign aimed at moms with adult children, offering a unique way to encourage young adults to purchase health insurance. Recognizing that 8.6 million young adults age 26-34 are uninsured, AARP is encouraging their moms – many of whom are our members – to remind their kids to sign up for insurance as required by the Affordable Care Act.

The e-cards say things like: "As a reward for signing up for health insurance, I'll defriend you on Facebook. You're welcome." and "Shop for a health plan the same way you shop for everything…online, in your underpants."

"We know that parents remain an important fixture in the lives of their adult children," said Nicole Duritz, Vice President AARP Health Education and Outreach. "That's why AARP created these cheeky e-cards for parents to remind their young adult children to sign-up for health insurance starting October 1 st – because when Mom says it, she means it."

The e-cards are available at MomMeansIt.org where moms – or dads or grandparents – can share e-cards with their children by email or through social media platforms including Facebook, Twitter and Google+. AARP also released a set of six unique e-cards is in Spanish available at TuMamaSabe.org.

The e-cards supplement AARP's existing resources on the health care law including a free online tool – HealthLawAnswers.org – and an information-rich website called HealthLawFacts.org. These resources offer consumers customized information on what the law means for them and additional details on specific aspects of the law. AARP's resources include information for those who are currently insured, those without health coverage or fear of losing it and people with Medicare.

To view and share e-cards visit: www.MomMeansIt.org.