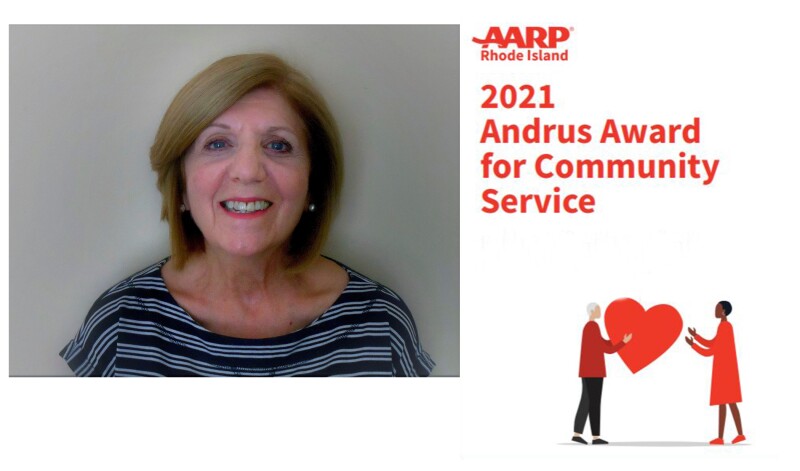 Lorna Oinonen of Bristol is the recipient of the 2021 AARP Rhode Island Andrus Award for Community Service -- the organization's most prestigious and visible state volunteer award for community service.

AARP Rhode Island chose Oinonen for her outstanding service as AARP Driver Safety Rhode Island State Coordinator, which has greatly benefited Rhode Islanders, supporting AARP's vision and mission, and inspiring other volunteers.

"We are delighted to provide this recognition to Lorna," said AARP Catherine Taylor. "She has been a shining star in our corps of volunteers, contributing many years of volunteer service to AARP and other organizations, including RI Meals on Wheels.

"We are indebted to Lorna for the work that she does and the way that she does it," Taylor noted at the December 11 awards ceremony. "You inspire volunteers to work alongside you. And you challenge us all to think as well as to do. That is so rare and so important."

Driving More Safely in the Ocean State
"I am very fortunate to have worked with people at AARP who appreciate the time and effort volunteers put in," said Oinonen in accepting the award. "I never expected to be the recipient of such recognition. I can only thank you from the bottom of my heart. I enjoy everything I do, every day making a difference."

"This annual award is a symbol to the public that we can all work together for the greater good," added Taylor. "AARP has long valued the spirit of volunteerism and the important contributions volunteers make to their communities, neighbors, and the programs they serve. Lorna's service embodies the words of our founder, Ethel Percy Andrus, whose motto was, 'To serve, not to be served.'"

Andrus Award recipients across the nation were chosen for their ability to enhance the lives of AARP members and prospective members, improve the community in or for which the work was performed, and inspire others to volunteer.

Lorna Oinonen became a volunteer instructor with AARP Driver Safety in 2015. She is part of a nationwide network of some 4,000 AARP Driver Safety volunteers that conducts classroom and online training in both English and Spanish.

In 2018, Lorna assumed the role of volunteer Rhode Island State Coordinator for AARP Driver Safety and a member of the AARP Rhode Island Executive Council. In her role as State Coordinator, she recruits, coaches, and provides direction to AARP Driver Safety volunteers to help grow Driver Safety programs throughout Rhode Island. In 2019, she also became the volunteer State Coordinator for Driver Safety in Massachusetts.

Lorna's other AARP volunteer roles include launching the Driver Safety CarFit program in Rhode Island two years ago; serving as a member the AARP Rhode Island Community Challenge Grant review committee; and representing AARP on the Age-Friendly RI transportation committee. Additionally, Lorna continues her volunteer service with the Meals on Wheels program - delivering meals to those in need in her local community of Bristol, Rhode Island for nine years along with her husband, John.

Prior to Volunteering with AARP's Driver Safety, Lorna was a Human Resource Executive with over 25 years of responsible and progressive experience in Human Resource Management. She managed employee relations to ensure fair and consistent practices, program development such as an Ethics Hotline, training programs to include Sexual Harassment and Workplace Ethics Training, and new business ventures and acquisition development.

Lorna's work background as a Human Resource Executive includes American Hoechst, Digital Equipment Semiconductor Division, Intel Corporation, Cherry Semiconductor, Dreyfus Funds, and Boston Financial Data Services where she retired as a Vice President of Human Resources in 2010. She is a past Board Member of Linden Place in Bristol, RI and was also on the board of the Digital (DEC) Connection Alumni Group

Lorna attended Hofstra University with a focus on Business Management. She completed the Human Resource Management Certificate Program at Assumption College. Lorna is a member of Society of Human Resource Management (SHRM) and the Northeast Human Resources Association (NEHRA).