Ready, Set, Vote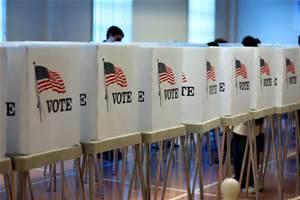 Make a difference in this year's primary and general elections by joining other AARP advocacy volunteers working to inform voters on key issues concerning people 50+ across Rhode Island.

AARP is advocating for retaining the 2020 voting options that made that election safe and convenient. We're working for you!

To volunteer, email Matt Netto or call him at 401-834-0524.


Let RI Vote
By Catherine Taylor
Elections in 2020 were unlike anything Rhode Island voters had experienced before. In response to the pandemic, state leaders put in place a number of common-sense measures to ensure that COVID-19 didn't keep us and our neighbors from exercising our most basic right to vote: expanding mail ballot dropboxes, making the emergency voting process more like real early voting, ending the unnecessary requirement that voters have the signature of two witnesses or a notary on their mail ballot vote, and more.

And the results spoke for themselves. The 2020 elections saw Rhode Island's highest turnout ever, even amidst a public health crisis. Despite their success, these reforms were only temporary, and expired at the end of 2020. And yet, the COVID crisis still sweeps across our communities years later, showing little signs of stopping.

I'm happy to share that AARP Rhode Island—on behalf of our 132,000 members across the state—is proud to be a key supporter of this year's Let RI Vote Act.


Click this link to visit our 2022 RI Voter Info Page

At AARP, our members' health and safety is our top priority, which is why we are a leader in the effort to make the changes that made the 2020 elections such a success permanent, through the Let RI Vote Act. According to AARP Rhode Island's recent Vital Voices Survey, two-thirds (66%) of Rhode Island voters age 45+ strongly or somewhat support making permanent provisions to allow voters more choices in the way we can vote. And those choices are personally important: 55% of Rhode Island registered voters age 45+ prefer to vote at their polling place on election day in general elections, while 43% prefer to vote early.

We know that older adults are smart, committed citizens, and pandemic or not, deserve the ability to choose how you want to vote: whether early in-person, by mail, or on election day. And you deserve to have the process of voting be as straightforward, common-sense, and secure as possible.

This year's Let RI Vote bills would make voting in our state better and more secure than ever. They would:

Allow a voter to apply for a mail ballot online
Shorten the deadline to request a Braille ballot
Expand who is eligible to be on the 'permanent mail ballot application list' to include long-term nursing home residents
Make permanent the secure mail ballot dropboxes that were used in every community in 2020
And, of course, End the requirement that mail ballots be signed by two witnesses or a notary public, which we know has been a barrier for so many of our members across the state to exercise their voting rights in past years.
AARP is proud to join the dozens of organizations who are supporting these bills.

And we hope you'll take action too. Text "LETRIVOTE" to 30403, and get involved. Contact your lawmaker. Talk to your neighbors, and explain that the Let RI Vote Act is the best way to ensure all Rhode Islanders have accessible, secure voting options.

The 2022 elections are right around the corner. So let's pass the Let RI Vote Act as soon as possible; it's what AARP members, Rhode Island's older adults, and voters across our state deserve.