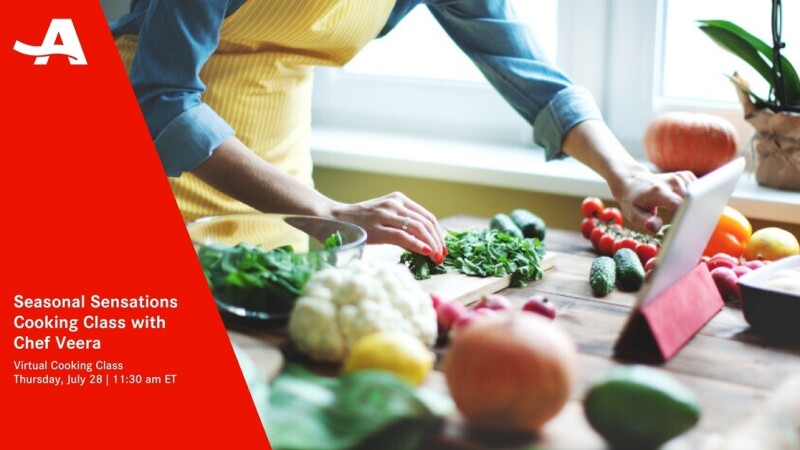 Do you ever feel like you'd like to start eating healthier, but just don't know where to start?

Maintaining a healthy diet and lifestyle is important as we age. Cooking healthy food at home can be an important part of a healthy lifestyle and it can help save money too.

AARP South Carolina is offering virtual cooking classes to support older South Carolinians in living healthy as they age.

Join Chef Veera, trained chef, educator, and entrepreneur for a virtual class on Thursday, July 28 from 11:30 a.m. to 12:30 a.m. on how cooking and eating healthy can also be easy, flavorful, fun and filling.
Seasonal Sensations Cooking Class - July 28, 2022

Summer -- the best time of the year in SC for utilizing fresh vegetables and fruit, key ingredients for light, flavorful eating both indoors and out. Learn to use seasonal produce to make healthy and tasty versions of your favorite summer foods. Remember that quality, fresh ingredients make all the difference, so let's use summer's bounty to discover culinary tips you can use all year long.

Menu: In this class Chef Veera will demo a versatile marinade for chicken, a quick stir fry entrée, a mayonnaise-free chicken salad and the secret to a delicious fruit salad!

Chef Veera will teach one more AARP South Carolina virtual healthy cooking class this year.

Gourmet & Healthy Entertaining – October 27, 2022

Yes, you can continue to eat healthy in the hectic and indulgent holiday season. Your guests and family will rave at your culinary skills when you serve these appetizers and use your newly acquired skills to prepare easy, healthy and new entrées. This class will give you lots of tips, tricks and recipes to entertain by creating foods that are decadently delicious and nutritious, not to mention, easy!

Menu: Learn a traditional but supremely easy French cooking technique for fish and chicken that is impressive to serve, but healthy and simple. Discover crostini and dip recipes for appetizers and a delectable dessert to satisfy your sweet tooth.
To find more Chef Veera healthy cooking tips and recipes visit her blog at ChefVeera.com.

Share your talents with older adults in South Carolina
Consider sharing your talents in a way that benefits older adults in your community and throughout South Carolina. Volunteer with AARP South Carolina and find unique opportunities to serve. Learn more at aarp.org/volunteer or by emailing scaarp@aarp.org or by calling 1-866-389-5655.
About AARP South Carolina