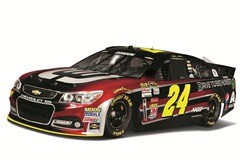 Special AARP Drive to End Hunger ticket package will be available for purchase and race fans have the opportunity see the seven-time Darlington Raceway winner in person at the track Too Tough To Tame on March 13

One lucky Darlington Raceway fan will receive the opportunity of a lifetime when NASCAR Sprint Cup Series driver Jeff Gordon visits the track Too Tough To Tame this Thursday, March 13.

Gordon, the driver of the No. 24 Drive to End Hunger Chevrolet, will give a ride of a lifetime Thursday afternoon to a randomly drawn fan who visits Darlington Raceway's ticket office on March 13 from 12:30 p.m. – 1:30 p.m.

Gordon is visiting Darlington to help promote the upcoming Bojangles' Southern 500, which is scheduled under the lights on Saturday, April 12. It will be the first night race of the season for the NASCAR Sprint Cup Series.

The four time Sprint Cup Series champion will also be handing out commemorative tickets to fans that purchase an AARP Drive to End Hunger ticket package on Thursday. The special package features a front stretch Pearson grandstand ticket, a scanner rental, $10 donation to the AARP Foundation's Drive to End Hunger campaign, and the opportunity to participate in a 15-minute question and answer session with Gordon in the driver's meeting tent on race day.

This great package is priced at an affordable $89! For every package purchased from 12:30 p.m. – 1:30 p.m. on Thursday, Gordon will hand out a commemorative ticket celebrating his seven NASCAR Sprint Cup Series wins at the famed Darlington Raceway. With seven victories, Gordon is the winningest active driver at the Lady in Black.

"Our goal is to create experiences that give our great race fans once in a lifetime opportunities, and with Jeff's [Gordon] support we're doing just that. On behalf of everyone at Darlington Raceway, we thank Jeff Gordon for supporting our beloved track and our loyal fans," Darlington Raceway President Chip Wile said.

"With this package, our fans receive one of the best seats in the Pearson tower, a free scanner rental and the opportunity to be a part of Jeff's question and answer session in the driver's meeting tent in the infield. This is something we've never offered fans before. Plus, a portion of each ticket goes to the AARP Drive to End Hunger campaign, which is important to both Jeff [Gordon] and Darlington Raceway. The AARP Foundation and Jeff [Gordon] have graciously made the decision to turn the donations around and give back to our local community, which is one of our key initiatives," Wile continued.

Fans are encouraged to arrive early on Thursday, March 13. Please park in the lot just East of Darlington's Stock Car Museum, off Hwy 151. Bojangles' will have food items for purchase as fans wait outside the ticket office for Gordon's 12:30 p.m. arrival.

The once in a life time pace car ride will be randomly drawn at approximately 1:30 p.m. and is subject to cancellation in the event of inclement weather. A makeup date and time will not be scheduled.

You can keep up with all of the latest news from Darlington Raceway  on Facebook and Twitter .
About AARP South Carolina