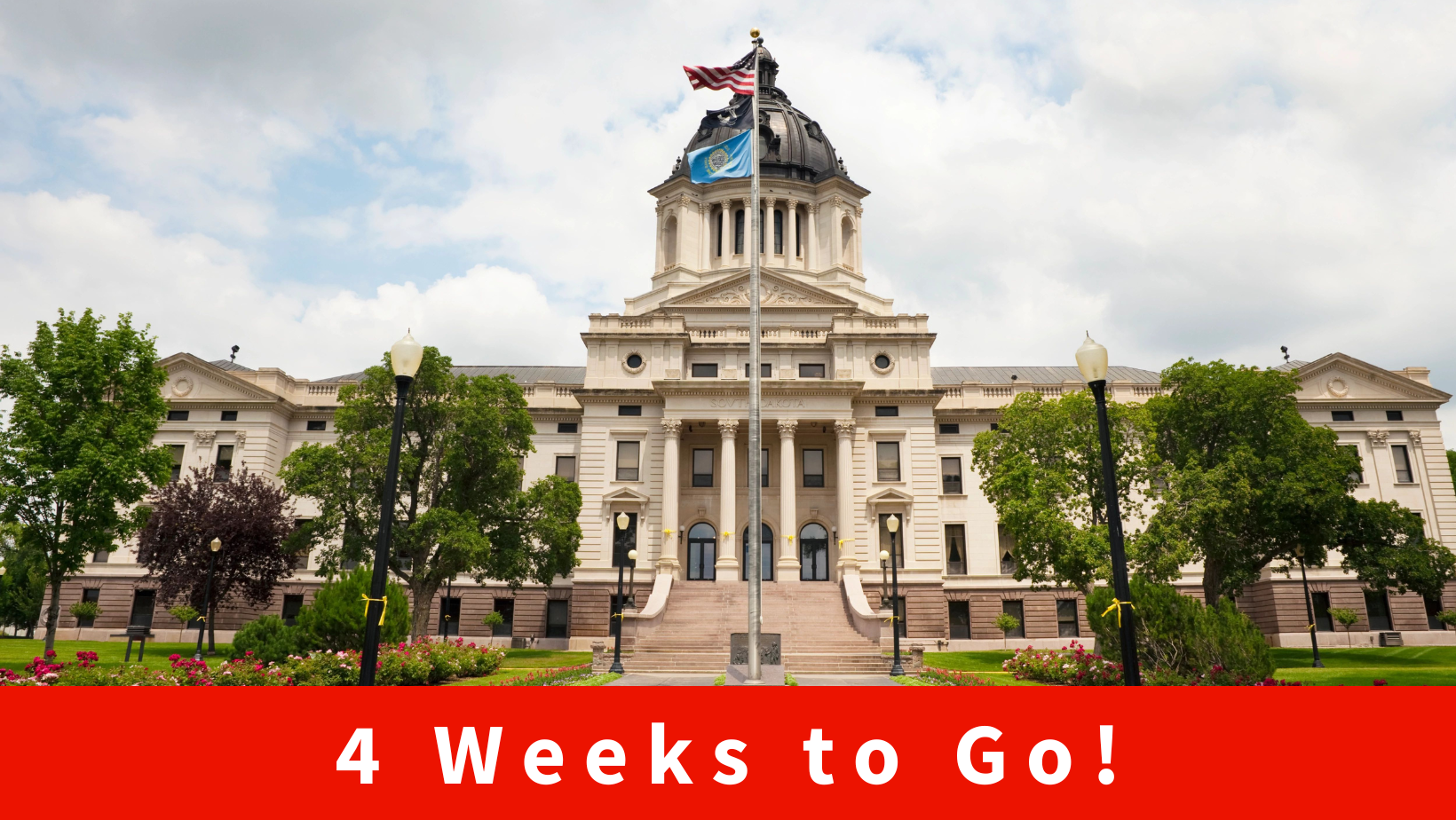 The Legislature marked its 21st work day this week, meaning there are just 16 days left of the regular session, which ends March 9. Then the final - or 38th - Legislative Day will be March 27 and is reserved for the consideration of gubernatorial vetoes.

Scope of Practice for Physician Assistants
On Wednesday, AARP South Dakota testified in favor of Senate Bill (SB) 175, which would allow Physician Assistants to work to their full potential. PA's are a proven and trusted member of South Dakota's health care system, and passage of this bill would increase access to high-quality for South Dakotans. The bill passed out of the Senate Health and Human Services Committee and moves to the Senate floor for consideration next week.

AARP South Dakota has a long history of supporting South Dakota's family caregivers who help make it possible for their parents, spouses, friends, and other loved ones to live independently at home where they want to be. That's why we support Senate Bill 175 which would take steps to modernize the practice of South Dakota's PA's so that patients have direct access to these professionals working to the full extent of their education and expertise.

Patients across South Dakota should have access to care in a variety of settings, including hospitals, medical offices, community clinics, and at home. PA's are a vital resource in this endeavor and help to care for older South Dakotans living in their homes and communities while keeping them out of nursing homes.

Tax Refunds for Low-Income Seniors
With AARP South Dakota's testimony and support, House Bill (HB) 1034, which provides property and sales tax refunds to low-income seniors, has passed through the Joint Committee on Appropriations, the House of Representatives, the Senate and now goes to the Governor for her signature.

Property taxes are the single most burdensome tax for low-income and older homeowners. Many of our state's elderly citizens have lived in their homes for generations. As their property values have appreciated, so have their property taxes. Furthermore, seniors often live on fixed incomes and cannot afford the yearly increases in their property taxes while also meeting their basic needs for food, medicine and utilities.

We applaud the Governor and Legislature for supporting this program over the years.

Attend Your Local Cracker Barrel This Weekend
South Dakotans enjoy regular access to elected officials. During the legislative session, there are often community-based conversations – called Legislative Coffees or Cracker Barrels – where you can meet with your local legislators.

Check out this schedule of meetings statewide to see if there are sessions happening this weekend. We strongly encourage you to attend and urge your lawmakers to support HB 1075, which would repeal the state sales tax on groceries.

Here are some quick talking points you can share:

Sales taxes are a regressive form of taxation, and a sales tax on groceries is especially burdensome for older and lower-income individuals and families who may already be struggling to meet their daily needs.
A tax on groceries may require older South Dakotans to choose between the purchase of food for themselves and their families and other vital necessities, such as prescription drugs or heat.
Access to an adequate and nutritious diet is foundational to maintaining health, quality of life, and independence as we age. While the risk of developing chronic conditions increases with age, recent AARP research indicates that nutrition is more important for healthy aging than generally recognized.
Our older South Dakotans are our volunteers, our caregivers, and our veterans, and their contributions to our state and communities have been and continue to be vital. Eliminating the sales tax on groceries so they can access nutritious food without having to sacrifice other essentials will help them continue to lead a healthy, active life.
Thanks for staying connected to our advocacy efforts and for making your voice heard on issues important to the 50-plus in South Dakota!