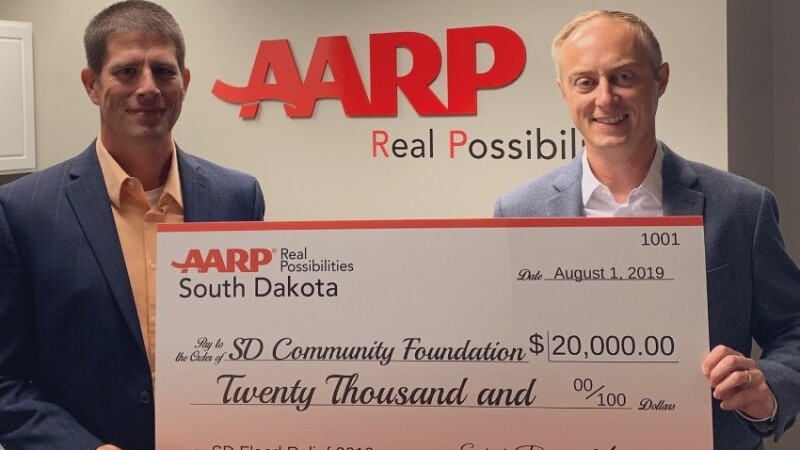 AARP South Dakota, in collaboration with the AARP Foundation, will be making a donation of $20,000 to disaster relief efforts in South Dakota. Many SD communities are still recovering from last spring's bomb cyclone storm, which brought heavy rain and snow to much of the state and caused historic flooding.
Rural communities in particular continue to face a range of challenges as their residents, many of whom are 50+, work to rebuild their lives. "Natural disasters intensify the struggles low-income older adults already experience," said AARP Foundation Senior Vice President Emily Allen. "When natural disasters strike, every dollar makes a difference. These funds will help local organizations address the immediate needs of low-income seniors and support long-term recovery efforts in the area."
The donation has been allocated to the South Dakota Community Foundation's Natural Disaster Relief Fund, established to support several nonprofits who are leading the recovery and rebuilding efforts in communities across South Dakota.
The South Dakota Community Foundation has a long history of supporting South Dakota communities and residents. AARP South Dakota and the South Dakota Community Foundation are founding partners of the Livable 605 coalition that works with South Dakota communities to build partnerships, develop resources, and implement strategies to enhance livability for all ages.
"AARP SD is proud to support the work of the South Dakota Community Foundation," said Erik Gaikowski, AARP South Dakota State Director. "Every citizen has a responsibility to their community and one of the best way you can support local growth is by supporting the local community foundation."
In addition to the donation, the AARP South Dakota Fraud Watch Network is educating residents about disaster related scams and sharing resource to help all South Dakotans protect themselves from frauds, scams and identity theft. Local presentations are available by contacting sdaarp@aarp.org.
"This was a devastating storm and we want to do all that we can to help our fellow South Dakotans rebuild," Gaikowski said. "We hope that our donation and outreach efforts will help restore and improve the livability of our local communities."