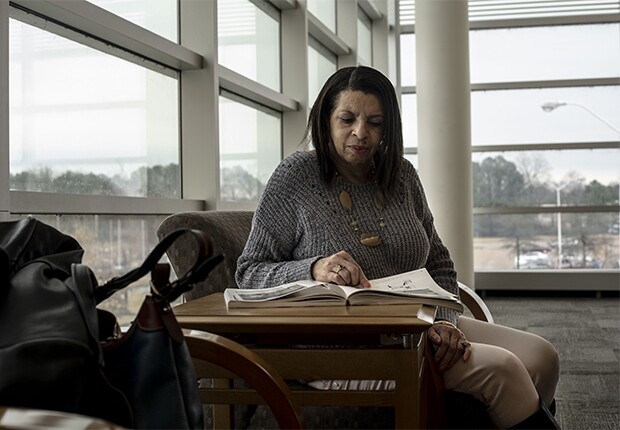 By Sheila Burke

Terri Teater was driving home to Strawberry Plains when she spotted a billboard advertising an offer that seemed too good to be true: free college.

The 52-year-old administrative assistant at a primary care company had long dreamed of continuing her education after marrying at 16 and getting a GED. But she had children and responsibilities and didn't want to take out loans to go back to school.

Motivated by changes in her workplace and the need to give herself better opportunities, Teater decided to find out more.

She is one of more than 1,000 students 50 and older taking advantage of a 2017 law allowing people without a degree or certificate to go to community college or technical school tuition-free. The oldest student to use Tennessee Reconnect is 82.

"I would never have been able to go to college without it," said Teater, who is working toward a degree in business management at Pellissippi State Community College in Knoxville. "It's always been a dream but just never something I could afford."

The Tennessee Reconnect grant is part of a wider package of free-education programs launched by former Gov. Bill Haslam (R), with strong backing in the General Assembly.

Since 2014, all new high school graduates have been able to go to two years of community college or technical school tuition-free.

Boost for new careers
The programs have been billed as a way to expand economic development by giving Tennesseans the knowledge and skills to compete in a new economy.

"We are thrilled that so many people are taking advantage of it," said Rebecca Kelly, AARP Tennessee state director. "It's just a great opportunity to have a second chance to earn higher-education credits."

Tennessee Reconnect is funded by lottery money, and applicants must fill out a student aid form. The state pays for anything that grants and scholarships don't cover. The program does not pay for books, housing or other expenses outside tuition.

Tamara Dean, 63, had already decided to go back to school after retiring from the Hershey factory in Memphis, where she worked for 35 years. But she couldn't afford to pay for many classes along with buying books.

Getting into the free-tuition program has helped tremendously, Dean said.

"It made it very easy on me to not have to pay," she said. "That way I can purchase my textbooks without the pressures and stress of paying tuition, too."

Dean is now on track to graduate with a Spanish-literature degree from Southwest Tennessee Community College. She is planning to teach that subject and hopes to eventually become an interpreter.

For Dean, this has been a longtime dream: "I always said since I was in my 20s, 30s, 40s and 50s that I was going to go back and get my degree in Spanish."

Teater and Dean said people over 50 needn't worry about deciding to return to school.

"I really felt like I was going to be the 'old person' in class and not be able to keep up, because I had been out of school for over 30 years," Teater said. "But everybody has been so nice and helpful, and the teachers truly care about my success."

Learn more about Tennessee Reconnect at tnreconnect.gov.

Sheila Burke is a writer living in Nashville.