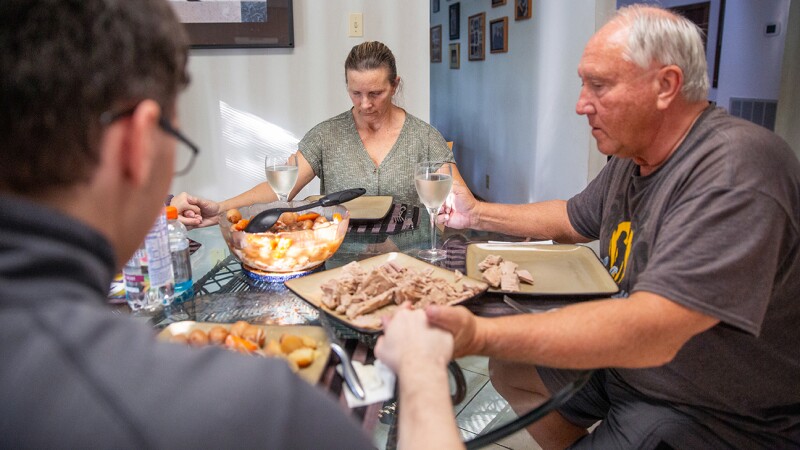 When Mitch, 71, and Pam Olszewski, 57, of Knoxville, first got custody of their grandson Anthony in 2009, he was 6 and weighed just 26 pounds. His parents were drug addicts, and the boy needed a stable home.

Four years later, their granddaughter Shyanne, 6, came to live with them, too, because of her parents' drug addiction. "They cooked meth with her in the room," said Mitch.

The Olszewskis' story is not rare. In Tennessee an estimated 77,000 grandparents are raising grandchildren, according to the U.S. Census Bureau. Nationwide, roughly 2.6 million grandparents are the primary caregivers for grandchildren, according to Generations United, a nonprofit intergenerational advocacy group.

November is National Family Caregivers Month, and AARP wants grandparents to know about a new law intended to assist them with the selfless work they are doing.

The law requires that courts inform grandparents and other relative caregivers that they may be eligible to receive financial help and other resources through the Relative Caregiver Program, part of the Tennessee Department of Children's Services (DCS).

The measure was sponsored by state Sen. Richard Briggs (R-Knoxville). Unlike foster parents, relative caregivers don't get a monthly stipend from the state, Briggs told the state Senate Judiciary Committee in February.

"You can imagine a grandmother who's single, living on $500 or $600 of Social Security, and now, all of a sudden, she has two kids from a daughter who's in prison," Briggs said. "How is she going to manage?"

Help for Families

With the Relative Caregiver Program, the DCS contracts with agencies across the state to provide services such as emergency financial assistance, counseling for children, support and enrichment for grandparents and kids.

The help is sorely needed, said Tracy Van de Vate, a program manager for Grandparents as Parents, part of the Knoxville-Knox County CAC Office on Aging.

"It's a financial strain for a lot of people," said Van de Vate. Caregivers often have to make life changes once they get custody of the kids, like putting off retirement or picking up a job to help with the costs, she noted.

The DCS has been spreading the word about the Relative Caregiver Program.

"We're not finding that people are taking unfair advantage of it," said Marjahna Hart-Curry, a program director at the agency. "Instead, relatives have been trying to meet the needs of these children without any type of assistance."

Children who live with their grandparents have much better behavioral and emotional outcomes than those who go into foster care, Van de Vate said. Most kids in the families she serves feel positive about living with their grandparents, she said.

That's certainly been the case for the Olszewskis' grandkids. Anthony and Shyanne are thriving after receiving much-needed counseling and being in a home that is safe, stable and loving.

When it comes to raising children, Mitch observed, "as long as the person provides them that consistency of care and love, anything is possible."

To find local agencies that administer the Relative Caregiver Program, grandparents should contact the courts that granted them custody of the children. For more information, go to tn.gov/dcs or call 833-984-1498.

More on Grandparenting

Today's Grandparents More Progressive Than We Think

Grandparents Embrace Changing Attitudes and Technology

Sheila Burke is a writer living in Nashville.