Statewide Surveys Reveal Concerns About Retirement Savings
Tennessee Registered Voters, Small Business Owners Favor Workplace Savings Option
NASHVILLE, Tenn. – (Feb. 26, 2018) – More than one million Tennesseans do not have a retirement savings option at work. Yet, national research shows people are 15 times more likely to save for retirement when they can do so at their place of employment.¹
AARP Tennessee today shared the results of two separate studies, revealing attitudes of registered voters and small business owners about planning and saving for retirement.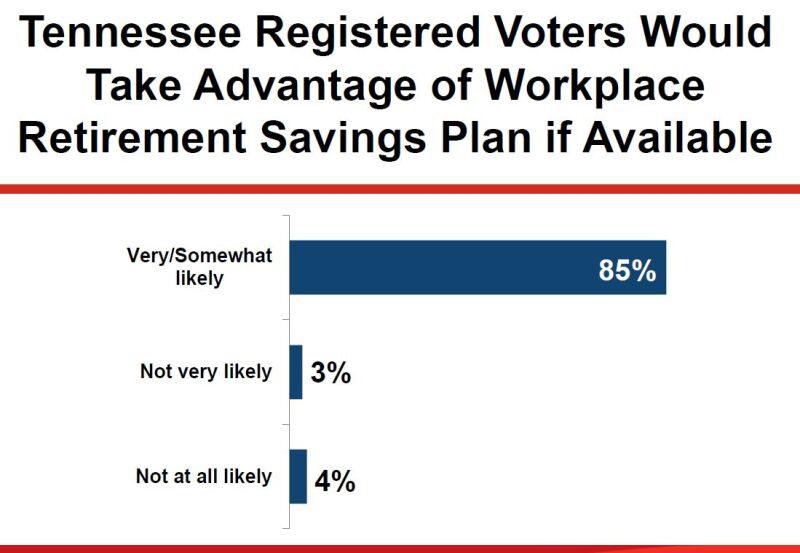 The first study, conducted in January 2018, targeted Tennessee registered voters, ages 18-64 and uncovered valuable insight, attitudes and concerns regarding their financial outlook toward retirement. The second study, fielded in September 2017, is focused on small business owners throughout the state and how they view retirement savings options.
Key findings of the statewide research studies ( WS Survey Charts )


An overwhelming majority of registered voters (85%) indicated they would likely take advantage of a retirement savings program at work, if it was available.
87% of registered voters feel that lawmakers should support a Tennessee retirement savings option.
More than two-thirds of registered voters (67%) feel anxious about being financially prepared for retirement.
56% of registered voters feel like they are "behind schedule in saving for retirement"
Nearly 8-in-10 (79%) of small business owners feel that offering a retirement plan provides a competitive edge for their company.
Of the small business owners surveyed, 68% said they would be likely to offer a retirement savings plan if it was available.
A full annotation of the results are available online for the Tennessee Small Business Retirement Survey and the Registered Voters Retirement Security Survey.
"The results of these surveys paint a clear picture – Tennesseans want to be able to save for retirement through payroll deduction at their workplace," AARP Tennessee Advocacy Director Shelley Courington said. "We are hopeful that state lawmakers will recognize the need to support creating a new retirement savings option for their constituents."
To address these concerns, a bill has been filed in the Tennessee General Assembly. Known as the Voluntary Retirement Savings Account bill (SB1720/ HB 2051), the proposal will allow the State Treasurer to establish a voluntary employee retirement account program.
"For so many small businesses across Tennessee, the cost and process for setting up their own retirement savings program is prohibitive," Courington continued. "But, we know retirement savings options help people take care of themselves in later years, enabling them to be less dependent on public assistance."
In fact, a 2017 study showed low-income retirees who save enough to increase their income by $1,000 per month will save the state of Tennessee $260 million on public assistance programs between 2018 and 2032.²
AARP strongly supports retirement savings programs that will help all workers grow retirement savings so they can take control of their futures, deal with the rising cost of living, and be prepared for future life needs like health care.
AARP is the nation's largest nonprofit, nonpartisan organization dedicated to empowering Americans 50 and older to choose how they live as they age. With nearly 38 million members and offices in every state, the District of Columbia, Puerto Rico, and the U.S. Virgin Islands, AARP works to strengthen communities and advocate for what matters most to families with a focus on health security, financial stability and personal fulfillment. AARP also works for individuals in the marketplace by sparking new solutions and allowing carefully chosen, high-quality products and services to carry the AARP name. As a trusted source for news and information, AARP produces the nation's largest circulation publications, AARP The Magazine and AARP Bulletin. To learn more, visit www.aarp.org or follow @AARP and @AARPadvocates on social media.
# # #
¹ Data compiled by AARP's Public Policy Institute from unpublished estimates from the Employee Benefit Research Institute of the 2004 Survey of income and Program Participation Wave 7 Topical Module (2006 data). See also Brookings' Retirement Security Project, and WhiteHouse.gov.
²AARP Public Policy Institute analysis of Philip Trostel, The Fiscal Implications of Inadequate Retirement Savings in Maine (Orono, ME: The University of Maine Margaret Chase Smith Policy Center, February 2017), https://mcspolicycenter.umaine.edu/wp-content/uploads/sites/122/2017/03/final-aarp-report.pdf.