The Hill Country is a better place for the drive and creativity of volunteer George Barnette.

Based in Johnson City, Barnette is an eager leader, giver and organizer, and has headed up or been involved in an impressive litany of projects -- from assisting with medical missions in Mexico to building wheelchair ramps, park benches and picnic tables.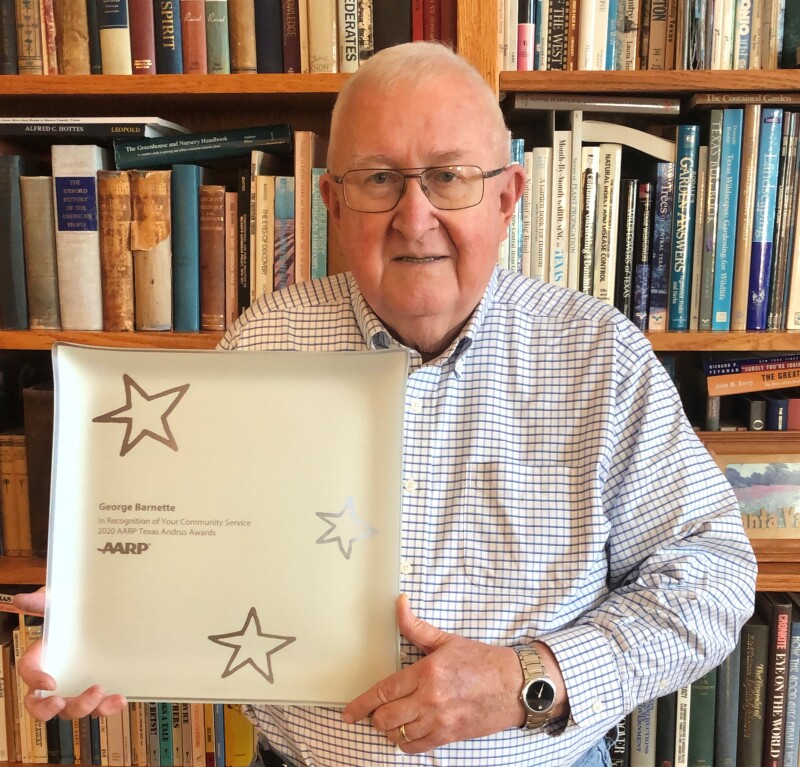 AARP has just recognized his selfless service with the 2020 AARP Texas Andrus Award for Community Service, the Association's most prestigious and visible award for a volunteer in Texas.

A former long-time journalist and former head of a crisis management company, Barnette now devotes his time to volunteer projects of all stripes.

Among them, he's led clothing drives benefiting refugees in Eagle Pass, solicited and obtained financial support for medical mission trips along the Texas-Mexico border, and read stories to preschoolers every week – sometimes wearing a costume or mask to bring the tales to life.

Volunteerism, Barnette says, "has been the thing that has kept my juices flowing. There is always more to be done."

Barnette, 77, has called Johnson City home for two decades, where he and his wife retired after years spent in Houston.

"He truly believes that empowering young people to try something new helps them gain self confidence and self respect," said fellow church member Carrie Anders in her award nomination. "But what he's also doing is providing an opportunity for older people in our community to work side by side with teenagers, which bridges the gap and benefits both parties."

Lee Romero, a pastor at the First United Methodist Church in Johnson City, wrote: "Lives have been transformed and changed based on George's willingness to seek out opportunities and ways to care for others, regardless of who they are or where they live."

Other recipients of this year's AARP Texas Andrus Award are Dr. Charlotte Travis of San Antonio and Rodd Gray of Dallas.