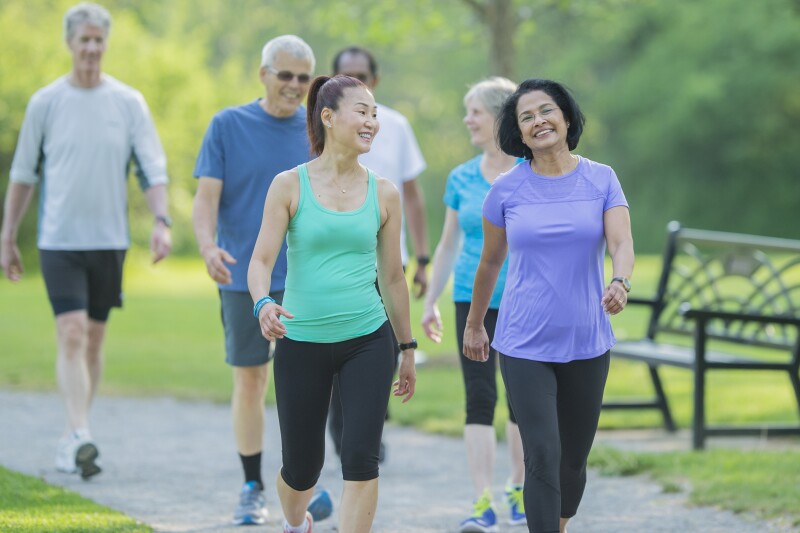 Get fit, have fun and stay motivated!
Join AARP Texas for a weekly walking club in south Austin, beginning May 8.
Across the country, AARP is gearing up for our second annual Fit & Fun Challenge and Sweepstakes.
The challenge runs from May 1 through June 30 and is designed to inspire all of us to get happier, get healthier, and get walking! Starting May 1, walk 30 minutes a day for eight weeks. Just by entering, you will earn a chance to win a spa getaway for two! No purchase necessary.
Best of all? Here in Austin, we're with you every step of the way. Join our local Fit & Fun walking group! The group is a fun and motivating way to start get active every day and to encourage you to make it a lifelong habit, all while getting to make new friends along the way. Walking is an easy yet very effective way to improve your overall health and to get outdoors to enjoy the lovely Austin spring weather.
For the duration of the annual challenge, we'll meet each Wednesday morning at 9 a.m. at Dick Nichols Park at the AARP table near the basketball court. Conveniently, the park has free onsite parking and is within walking distance from the 333 bus route.
The weekly walking group is free and open to the AARP community, so don't forget to invite your family and friends to join in on the fun and help you keep each other accountable! Spread the word about the annual challenge by sharing any stories or photos from your journey on social media with the hashtag #fitfunchallenge.
To get started, join the national challenge at aarp.org/challenge. Then be sure to RSVP online to join the weekly walks. Light snacks will be provided and AARP will be giving away pedometers and AARP gear.
WHAT: AARP Austin Walking Club
WHEN: Every Wednesday 9 – 10 a.m. starting May 8 through June 26, 2019
WHERE: Dick Nichols District Park, 8011 Beckett Rd., Austin, TX 78749
KICK-OFF EVENT: Wednesday, May 8, 2019 9 – 10 a.m.
*Registration begins at 8:30 a.m. for this first group meetup