A long-time activist and community advocate, Rodd Gray is a powerhouse fundraiser and devoted volunteer to the Resource Centre of Dallas.

As the lead in numerous charity programs, Gray contributes time, money and talent to the organization, which advocates for the LGBTQ community and all people affected by HIV through education, health and wellness efforts.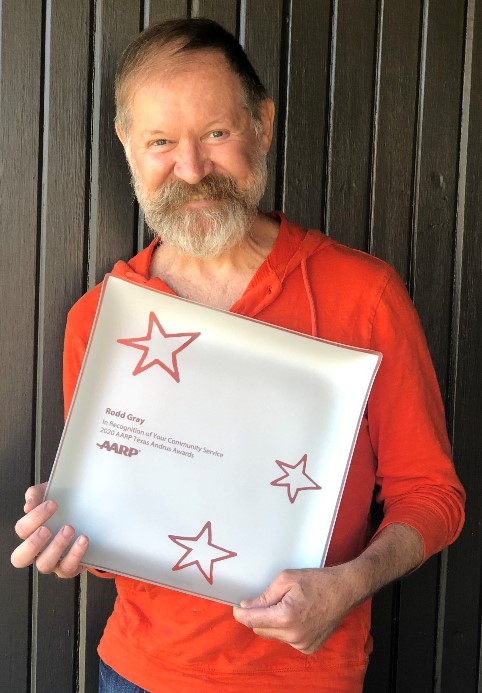 AARP recognized Gray's incredible commitment to service with the 2020 AARP Texas Andrus Award for Community Service, the Association's most prestigious and visible honor for a volunteer in Texas.

"I have had some really incredible blessings bestowed on me," said Gray. "I think of this (charity work and volunteerism) as my job. It's what I'm designed to do. I do it well enough that people respect it, and they quickly give money."

Gray spends free time helping assemble holiday meals for low-income HIV-positive individuals, coaching at-risk youth, and entertaining others in a drag persona, "Patti Le Plae Safe." In this role, Gray has raised in excess of a staggering $1 million for the Dallas community.

"Rodd has been fearless in the face of bigoted adversity, never letting anything stand in the way of doing what is right," wrote Bill Scott, senior manager at Resource Center of Dallas, in his nomination form. "We are extremely fortunate and proud to have Rodd as a supporter, a volunteer and as a friend."

A former "Miss Gay America" pageant winner, Gray is also the founder of the Home for the Holidays organization, a Dallas-based fundraising group that ensures people living with HIV/AIDS have the means to travel to be with their loved ones.

Originally from Arkansas, Gray is a veteran of the U.S. Air Force and has lived in Dallas since 1985. Lately, between fundraising efforts, Gray is working six part-time jobs, including as a hairstylist, cake decorator, small museum operator, security guard and delivery person.

Other recipients of this year's AARP Texas Andrus Award are George Barnette of Johnson City and Dr. Charlotte Travis of San Antonio.