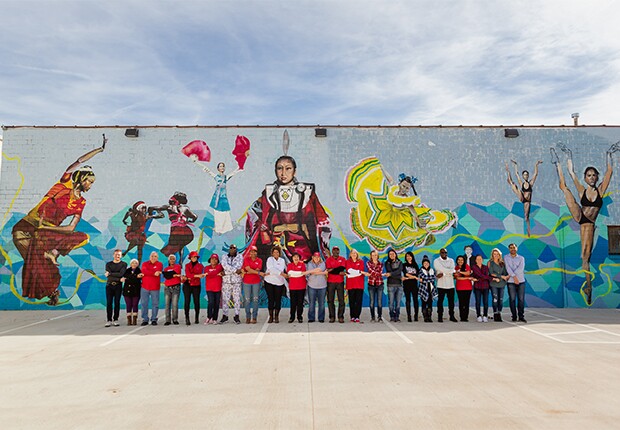 Por Laura Tillman
AARP Texas está trabajando arduamente para hacer que las comunidades sean más habitables para todos, ya sea con nuevas aceras para caminar con más facilidad o una instalación de arte para alegrar un espacio público.
Para quienes pasan sus años de envejecimiento en el hogar y enfrentan desafíos de movilidad e ingresos fijos, la habitabilidad puede representar la diferencia entre conectarse con la comunidad o vivir aislados. Aquí mostramos cómo cinco ciudades de Texas están mejorando la vida de sus residentes.
Houston
Desde agosto del 2017, cuando el huracán Harvey dañó cientos de miles de casas, AARP en Houston ha estado ayudando a los adultos mayores a rehabilitar sus residencias arruinadas por inundaciones y vientos. Houston se ha unido a la red de 100 Resilient Cities (100 ciudades resistentes), preparando a la ciudad contra futuras amenazas de tormenta y cambios climáticos.
El Concejo Municipal de San Antonio aprobó un presupuesto en septiembre que agregó $17.1 millones adicionales (para un total de $25 millones) para ayudar a cumplir las recomendaciones propuestas el año pasado por el Housing Policy Task Force (Grupo de trabajo para la política de vivienda) del alcalde.
La vivienda asequible en San Antonio es una importante mejoría en la calidad de vida que hará que la ciudad sea más habitable para muchos residentes.
"AARP en San Antonio ve con sumo agrado que el marco de la política de vivienda resuelve preocupaciones de la población mayor de 50 años, tales como asequibilidad, rehabilitación y modificación", dijo Lisa Rodriguez, directora de activismo de AARP en San Antonio.
Austin
Conocida por la University of Texas, su ambiente musical y su comunidad tecnológica, Austin también cuenta con una de las poblaciones con más rápido crecimiento de personas entre 55 y 64 años en el país, según el censo del 2010.
AARP Texas, junto con AustinUP (una alianza comunitaria que trabaja en asuntos relacionados al futuro del envejecimiento), está implementando un Age-Friendly Action Plan (plan de acción favorable para los adultos mayores) con el Gobierno de la ciudad. El presupuesto de Austin para el 2019 incluye fondos para contratar a un empleado de tiempo completo a cargo de transformar la ciudad en un lugar modelo para envejecer.
"Necesitamos cambiar la percepción de lo que significa envejecer en un mundo donde la gente está viviendo vidas más largas y más plenas", dijo Teresa Sansone Ferguson, directora ejecutiva de AustinUP.
"Lo que hagamos ahora ayudará a generaciones futuras", señaló.
Dallas
Melodía Gutiérrez, directora de activismo de AARP para Dallas-Fort Worth, se inspiró en su experiencia en las artes para crear un mural comunitario, el cual muestra a mujeres multiculturales y a la fundadora de AARP Ethel Percy Andrus.
Gutiérrez unió a un grupo diverso de residentes del área para usar un sistema de pintar por número con el fin de que cualquier persona pudiera participar en la creación del mural.
La obra de arte final transformó un estacionamiento de un vecindario económicamente deprimido a un hermoso espacio de reunión. Visita el mural en 1902 S. Lamar St. en Dallas.
Fort Worth
AARP en Fort Worth ha empezado un programa de certificación Age-Friendly Business (negocios favorables para los adultos mayores) para empresas locales. Gutiérrez anticipa que la lista de participantes crezca exponencialmente este año.
Para obtener dicha certificación, los negocios deben comprobar que cumplen con la Americans Act with Disabilities (Ley para Estadounidenses con Discapacidades) y asegurar que los niveles de sonido e iluminación sean apropiados para los adultos mayores, que las letras sean grandes y fáciles de leer y que los letreros sean claros.
Gutiérrez le dio crédito a la alcaldesa de Fort Worth Betsy Price (republicana) como una "visionaria" que comprende que el desarrollo debe tomar en cuenta a todas las generaciones.
Laura Tillman es una escritora que vive en McAllen.
Infórmate cómo vivir más cómodo en tu hogar y vecindario con nuestro subcanal de Transporte y comunidades.