Onlookers danced and swayed with the beat of the drum band on the AARP float in the D.C. Capital Pride parade on Saturday, June 8 th. The parade was one of the highlights for AARP participants in DC Pride weekend. Cheering, onlookers stood four-deep along the sidewalks, in the heat, along the 19-block parade route around DuPont Circle, New Hampshire Avenue, and 17th and P streets.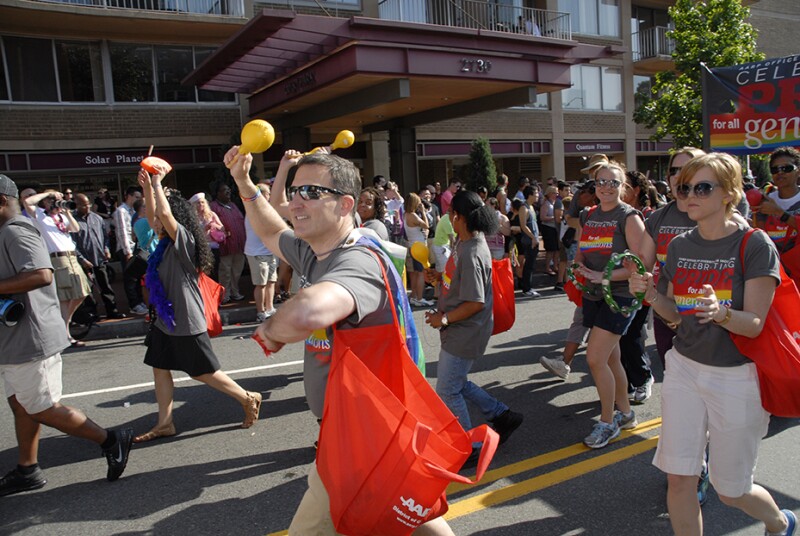 The parade watchers jumped and reached out to catch Skittles tossed into the crowd by more than 40 AARP parades. AARP Pride parade volunteers held high a colorful "Celebrate Pride for all Generations" banner. The AARP DC paraders included Mercy Morganfield, AARPDC State President; Michael Murray, Director of Regional & State Support in AARP States and Communities; Ernest "Chico" Rosemond, chairperson of PRiSM, the AARP GLBT Employee Group; and many other AARP staff members and volunteers.



The parade connected two other Pride events jointly sponsored by AARP DC and the District of Columbia Capital Pride organization. On Thursday, June 6 th, more than 20 AARP staff members, volunteers and even a tourist or two attended a Reception and Town Hall meeting where a discussion was held on the needs of GLBT residents as they age. Health care and financial security were two of the main issues discussed. Several in the audience spoke passionately about the need for gay and lesbian partners to have family-style access to each other, when hospitalized or in nursing homes. Others pointed out that there are unfair obstacles to gay and lesbian partners sharing their finances in the way that legal or biological family members do. Representatives of local organizations which offer services for GLBT residents, such as SAGE (Senior Action in a Gay Environment-Metro D.C.) and the Whitman Walker Clinic, told the Town Hall audience about their resources.

"AARP empowers me with information, and the ability to inform policy makers (of my needs)," said Yvonne Smith, a DC resident who shared her testimonial about what AARP means to her at the AARP booth at the D.C. Pride Festival. Volunteers offered Skittles and a colorful AARP DC Pride elastic bracelet to festival visitors, and at the AARP booth, engaged more than 2,100 people in conversations about how to access AARP legal assistance, get information on health reform, become an AARP member and help make the District more age-friendly and livable.

Information about and AARP resources available to the lesbian, gay, bisexual and transgender community is available at AARP.org/pride, an online source of LGBT-focused multimedia features on money, health, finances, travel, relationships, and more. Visit SAGE at http://dc.gov/DC/DCOA/Find+Services/GLBT+Resources/SAGE+Metro+DC, and the Whitman-Walker Clinic at www.wwc.org/.