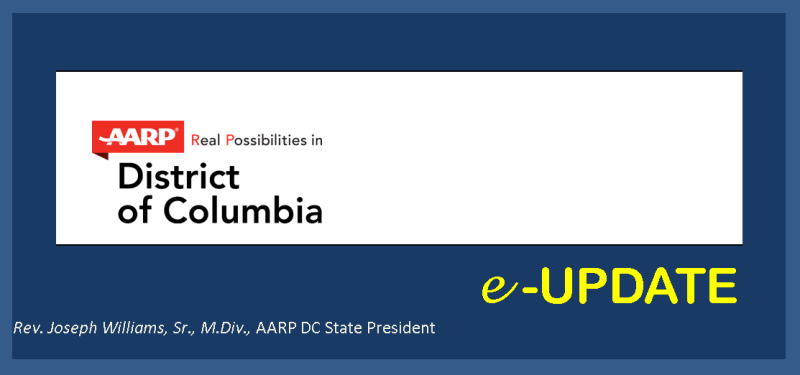 July-August 2016 Issue
DC Advocacy Happenings
Take a Stand: Have You Signed the Petition?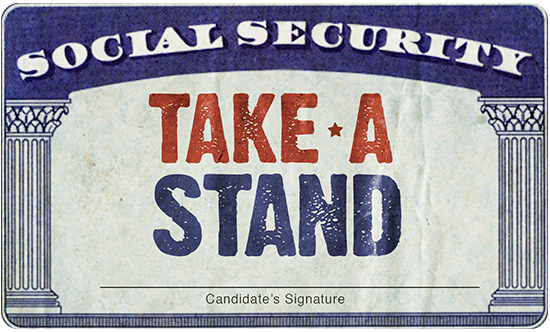 AARP is advocating that each Presidential candidate have a plan to keep Social Security strong. The only way to make progress is for our national leaders to make Social Security a priority and put serious proposals on the table. This starts with Presidential leadership. Anyone who thinks they're ready to be President of the United States should be able to tell voters how they'll keep Social Security strong. See what has been submitted to AARP by the campaigns of Donald Trump and Hillary Clinton. Further, add your name to the AARP petition to ensure that Social Security is updated with sound recommendations. Raise your voice. If you have questions about Take a Stand or want to volunteer for this initiative, contact Ivan Lanier at (202) 434-7715 or ILanier@aarp.org. Learn more about Take a Stand and sign the petition here: http://goo.gl/lhCWsh

Free AARP E-Book Features the District's Livable Communities Efforts

Where We Live: Communities for All Ages is a new book published by AARP that celebrates 100-plus ideas from almost 100 mayors—past and present—who demonstrated outstanding leadership and commitment to building communities that are livable for people of all ages. One of the projects featured from Mayor Muriel Bowser is Genesis, a District of Columbia intergenerational housing community in Ward 4. An endorsement from Mayor Bowser of the e-book is featured on the back cover. The opening of Genesis fits in the "Housing" domain under the Age-Friendly DC Strategic Plan. Learn more about Age-Friendly DC here: http://agefriendly.dc.gov. Download a free copy of Where We Live: Communities for All Ages here http://goo.gl/9dmSst. If you have questions about DC the State Office activities with Age-Friendly DC, or want to volunteer for this initiative, contact Ivan Lanier at (202) 434-7715 or ILanier@aarp.org.

AARP Events
AARP DC Offers a New Series of In-Person Workshops

During August and September, connect with AARP through free interactive in-person events that mix fun with purpose! From AARP TEK workshops where you learn to use your mobile or pad devices to engaging with fellow family caregivers to get support and new ideas. Explore the events offered right here in the District. See the AARP TEK schedule here: http://goo.gl/ZXL8kr Find a Carversations event here: http://goo.gl/wPwMsd

Celebration of Service Commemorates 9/11 and Feeds the Hungry

Join AARP Foundation for the Second Annual A Celebration of Service meal pack challenge. The Foundation will pack 1.5 million meals for our region's struggling seniors. Giving back is part of the DNA of AARP Foundation and all of AARP. On this National Day of Service and Remembrance, join us as we help those in need and also honor the sacrifice of those who were lost and those who united in service on 9/11. This year's meal packing event will take place on the National Mall on Sunday, September 11 and Monday, September 12. Register yourself and/or your group indicating that you are volunteering as a part of the AARP DC contingent. Sign up here: http://goo.gl/tc2Dfz

AARP Sponsors National Book Festival

AARP CEO JoAnn Jenkins, author of Disrupt Aging will be one of the featured authors at the 2016 National Book Festival offered by the Library of Congress on Saturday, September 24 from 9 a.m. to 10 p.m. at the Walter E. Washington Convention Center. JoAnn will lead a Disrupt Aging book chat in the Contemporary Life Pavilion, Room 146AB, from 3:15 pm to 4:00 pm. She will sign books from 4:30 pm to 5:30 pm. The Festival celebrates literacy and literature, bringing together best-selling authors and illustrators with thousands of book lovers and avid readers. AARP is a charter sponsor. See the full National Book Festival schedule at: http://www.loc.gov/bookfest

Delivering AARP Message at the 2016 Citi Open

More than 5,000 people came to the AARP booth during the annual Citi Open held July 16-24 at the Rock Creek Park Tennis Center. During the nine-day tennis tournament, we showed what AARP is doing in the Washington, DC metropolitan area. AARP DC joined with AARP Maryland, AARP Virginia and Legal Counsel for the Elderly to showcase our services and activities. Nearly 400 visitors to the AARP booth signed the Take A Stand petition, requesting that the Presidential candidates share their plans to sustain Social Security. An Age-Friendly DC Business opinion experience took place where 230 people offered ideas on what would make their favorite local area restaurant more age-friendly. Some of those opinions were posted on AARP DC's Twitter page. Citi Open attendees were lured to the AARP booth by the clacking sound coming from the AARP spinning wheel. The wheel offered opportunities to win lots of free prizes. Twenty-four people participated in a free AARP-sponsored tennis clinic led by Wayne Bryan, well-known tennis coach and father of the Bryan Brothers, the number two Men's Doubles champs. ABC7 (WJLA-TV) aired a news feature on the tennis clinic that can be viewed here: http://goo.gl/dNCZac

Let's Hear from You!
Have questions about AARP District of Columbia and its work for the 50+ and their families who live inside the DC city limits? Send your query to: dcaarp@aarp.org

Contact Us

AARP District of Columbia State Office, 601 E St. NW, Washington, DC 20049

e-Update Contact: Brenda C. Siler – dcaarp@aarp.org or (202) 434-7711

AARP DC State Office Phone Number: 202-434-7700 or 1-866-554-5384 (Toll-free)

AARP DC Website: www.aarp.org/dc

Follow us on Twitter: https://twitter.com/AARPDC

Like us on Facebook: www.facebook.com/aarpdc