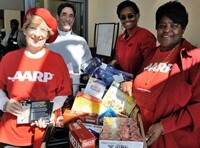 "It is only in the giving of oneself to others that we truly live;" wise words from the founder of AARP, Ethel Percy Andrus.

The District of Columbia State Office of AARP has great opportunities for local residents looking for meaningful ways to give back to their community. In March, a couple of community service expos will be held where college students, young adults, boomers or retirees age 60-plus can choose the service opportunity that best fits their interests, schedule and personal goals. The first expo is Thursday, March 7, 10 am, AARP National Headquarters Building, 601 E Street Northwest, DC, 10th Floor, Room B10-401. The second is on Tuesday, March 12, 6:30 pm – 8:00 pm at Guapos Restaurant, 4515 Wisconsin Ave. NW, D.C. 20016.

"AARP has innovative tools and resources we can take into our communities to make life better for others," said Mercy Morganfield, AARP DC State President. Many opportunities exist, including contacting DC lawmakers to share AARP positions on issues before the City Council, demonstrating online tools that help save money for health care, and collecting food to feed the hungry in DC. In each service role, you will represent AARP, one of the most trusted organizations in the country.

Register for the March 7th expo by going online to http://aarp.cvent.com/serviceexpo. Register for the March 12th expo at http://aarp.cvent.com/serviceexpo2. Interested persons may also call the DC State Office at 202-434-7700 or send an email to aarpdc@aarp.org.