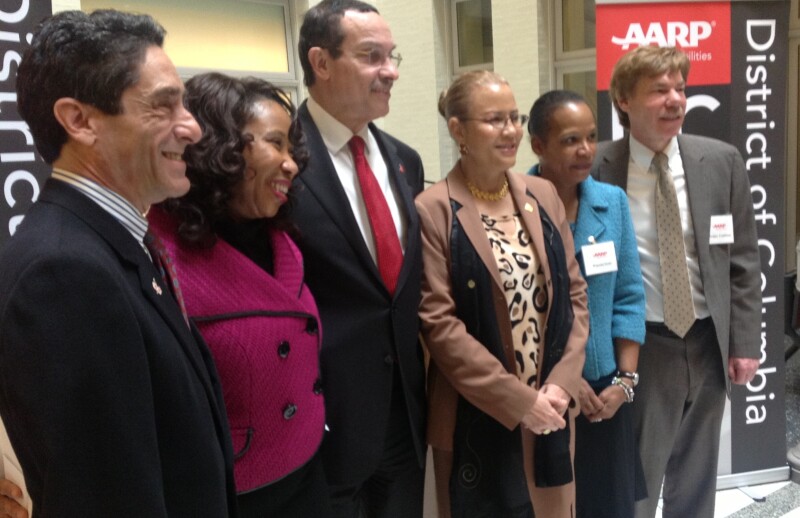 Diane Pratt, AARP Board Member, greeted volunteers and spoke about the AARP Age-Friendly Cities pilot in the District of Columbia at the AARP DC Member to Member Event on April 5, 2013, at the John A Wilson Building. Members in AARP branded red shirts talked with council members about improvements needed such as street lighting, wellness center hours, and affordable housing. "AARP DC volunteers understand how important this is," Pratt said, "how critical advocacy and education are to achieving goals. Our volunteers make sure DC seniors and their families know there's an organization standing with them and looking out for their interests."

DC Mayor Vincent Gray, Councilmember Jack Evans and Councilmember David Grosso spoke one-on-one and collectively to the audience of 45 members at the event. Each of the elected officials addressed the need for improvements to make the District more accessible and livable. .

Mercy Morganfield, AARP DC State President, said of the Age-Friendly Cities initiative in the District, "We envision this [age-friendly cities] process leading to concrete changes like affordable housing that can accommodate grandparents raising grandchildren and cultural resource guides that cater to the age 50+. We envision an Age-Friendly DC in which persons of all abilities are able to access the many great features of the District and a new ethos is created that naturally supports persons as they age."

The DC government will develop an Age-Friendly Cities action plan - including community input - and begin implementing it in early 2014. So, public input about how to make the city more accessible and livable will need to be gathered soon.