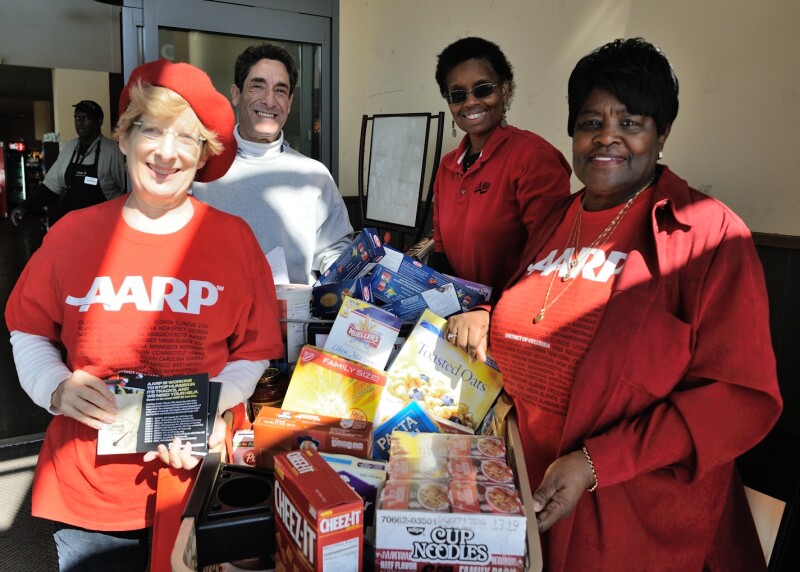 Thanks to the generosity of District of Columbia residents, AARP DC and the Capital Area Food Bank collected more than five tons - that's 10,000 pounds - of food in the 2012 Drive to End Hunger in DC food drive. That means 13,235 meals can be prepared for and by people at risk of hunger. That kind of food assistance is a lifeline to Ms. Bowman, a DC senior who receives food commodities.

"The commodity food... you (can) depend on because it's good stuff…" Ms. Bowman said. On her fixed income, she said, it's difficult to pay bills and buy food, but with food commodities she makes it work. Others get the benefit of food donations and government assistance at congregate meal sites and by receiving food stamps. About 40 percent of D.C. households with senior citizens are at risk of hunger ( Hunger in America 2010, Mathematica Policy Research).

On October 12 and 13, 154 volunteers collected non-perishable food items at one or more Safeway and Giant grocery stores in each ward of the city. Immediately after the traditional in-store food drive, AARP DC conducted its first virtual food drive. The AARP DC food drive expanded from one day to more than a week, with the addition of the virtual food drive. Online donations were accepted via the Capital Area Food Bank web site. Via the CAFB web page, donors chose and paid for the fresh food items they wanted to donate to DC food programs.