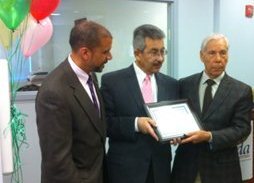 The Vida Senior Centers, one of the oldest Latino organizations serving seniors in the District of Columbia, and the AARP District of Columbia State Office celebrated the establishment of Vida's Multicultural Club, AARP DC's first "community group, Vida's Multicultural Club. The club is organized according to a new AARP model which recognizes the dynamics of today's diverse environment and the desire for a more flexible approach to local gatherings that can be connected to AARP.

Vida's Multicultural Club complements the expertise of Vida Senior Centers. It has a strong focus on Latino culture and on improving the lives of age 50+ Latinos in the District. There are 45 members and the Interim President is Julio Masariego.

"We look forward to providing bilingual, bicultural services and programs to meet the unique needs of seniors in the District," said Angel Luis Irene, CEO of Vida Senior Centers and founder of Vida's Multicultural Club.

AARP's history points to the significant positive social impact that the activities of AARP members and 50+ individuals can have in local communities. AARP Community Groups build on this tradition of fellowship and service. "By making an already strong relationship official, we will be able to have a deeper impact on the lives of this significant segment of the age 50 population in the District," said Louis Davis, Jr., Senior State Director of the District of Columbia.