(Photo courtesy of The Avalon Theatre)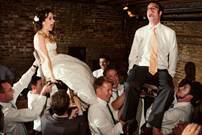 Members of AARP in the District of Columbia metro area got their update on Congressional debates about changing Social Security and Medicare at a very unlikely place - a local movie theater . On May 16th, residents from the District of Columbia; Montgomery County, Maryland; and Prince George's County, Maryland came out to hear information about the future of Social Security and Medicare and see a feature film, Hava Nagila: The Movie.

In Hava Nagila, the infectious party song is featured as a springboard to explore Jewish history and identity and to spotlight the cross-cultural connections that can only be achieved through music.

This integrated offering was held at the historic Avalon Theater in DC, which hosts a monthly senior movie screening. The Avalon usually welcomes between 30-50 patrons for these screenings, but the AARP event brought out more than 130 people. Members said they enjoyed the film and appreciated the update on two programs of great importance to seniors. Members asked AARP to host more events like this in the community. Watch this space for more joint events to be announced this year.