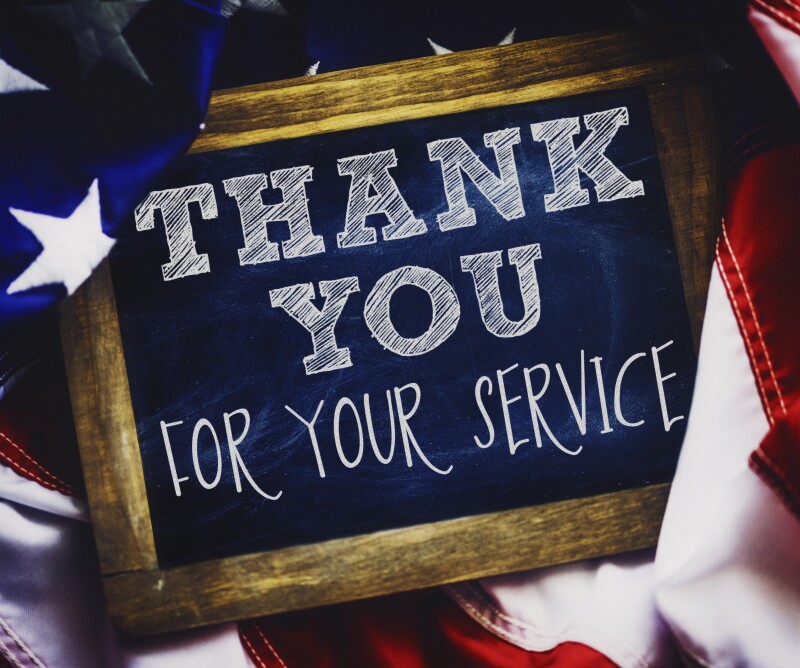 Veterans Day is observed as a federal holiday annually on November 11, and all month-long we honor veterans and former military as part of Veterans Appreciation Month. At AARP, we honor and support veterans and their families 365 days a year. Check out these resources, events and other opportunities...

Resources

Operation Protect Veterans

Vigilance is our number one weapon in the fight against fraud and scams. AARP's Operation Protect Veterans helps to raise awareness of common scams targeting veterans. Visit aarp.org/protectveterans for information about benefit scams, identity theft and other common scams targeting veterans. Here are just a few examples of scams to watch out for…

The Update Your Military File Scam: A caller claims to be from the Department of Veterans Affairs and asks to "update" you information, but really is hoping to get personal information to be used to steal your credit.
The Cash for Benefits Scam: Scammers target veterans in need of money by offering cash in exchange for their future disability or pension payments. These buyouts are typically a fraction of the value of the benefit.
Charity Scams: A caller claims to be raising money for disabled veterans or veterans with cancer. But often, the so-called charity is not registered with the government and/or uses most of the money to raise funds and pay their salaries.
VA Loan Modification: The scammers contact military families offering to help refinance their VA loans and then ask for upfront fees. They never provide the promised loan.
If you are a veteran who's been contacted by a scammer or know someone else who has been, share your story at protectveterans@aarp.org or call 1-855-800-9023.

Legal Counsel for the Elderly's Veterans Advocacy Project

AARP Legal Counsel for the Elderly (LCE) helps low income, DC veterans age 60 years and older in accessing justice in a variety of ways. LCE's Veterans Advocacy Project assists veterans and surviving spouses with VA pension claims and in disputing debt the VA alleges is owed. For information about LCE's Veterans Advocacy Project, visit www.aarp.org/LCE or call 1- 202-434-2120.

Jobs and Hiring Resources for Veterans

Here are some helpful resources—some of them specifically for veterans— compiled by AARP. Also, visit AARP's Veterans' Resources for information on military benefits, life after the military, advocacy and more.

Upcoming Events for Veterans with AARP DC

Join AARP DC this November at the following events, specifically targeted to the more than 29,000 veterans in DC and their families.

Tuesday, November 7, 11 AM - 2 PM: AARP DC joins AARP Create the Good at the DC Veterans Affairs Medical Center (

50 Irving St NW, Washington, DC 20422

) for a luncheon event to honor veterans and their families. This event is open only to veterans. Attendees will need to show an ID card that identifies s/he is a veteran (e.g. on driver's license or vet card).
Tuesday, November 7 at 7 PM: Movies for Grownups screening of the Last Flag Flying at Landmark E Street Cinema, 555 11th St NW, Washington, DC 20004. Registration is required. Tickets are available here.
Thursday, November 9 at 3 PM: From Passion to Profit, Part 2: Veteran Entrepreneurship live webinar. Hear from inspiring veteran entrepreneurs as they share their journeys of starting and succeeding in business. Register here to participate live on November 9 or watch the webinar on demand.
Saturday, November 11, Noon – 3 PM: Women Veterans Rock Veterans Day Rally & Resources Fair at Westminster Presbyterian Church, 400 I St. SW, Washington DC 20024. AARP DC will participate in the resource fair at this event for veterans and military families.
Discount Opportunities

AARP offers a 25% membership discount for Veterans or spouses of Veterans who are 50+ years of age. Click here for more information, or call 855-875-3733.
AARP Drivers Safety offers a 30% course discount for it's online AARP Smart Driver in honor of Veterans day. You can register at www.aarpdriversafety.org and use promo code VET2017. Offer valid November 1–30, 2017, for the online course only.