For Immediate Release
September 1, 2016
Contacts:
Jason Erskine / 206-517-9345
Cathy MacCaul / 206-218-5915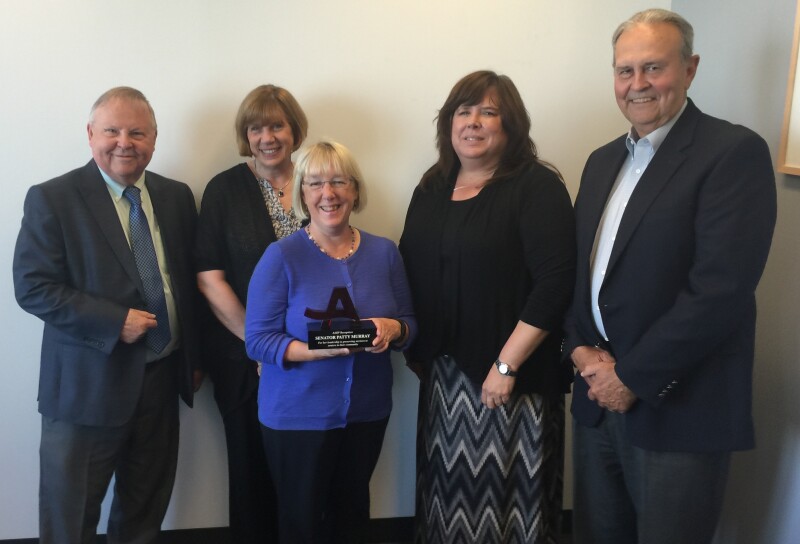 AARP Gives 'Champion of the 50+' Award to Senator Murray for Important Work on Issues Impacting Age 50+ American Families
Seattle, WA – Today AARP announced Senator Patty Murray as a recipient of the 2016 "Champion of the 50+" legislative leadership award for her significant achievements during the 114th Congress that benefit the lives of the 50+ and their families.
Senator Murray was recognized along with Lamar Alexander (R-TN), Richard Burr (R-NC), and Bernie Sanders (I-VT) for preserving services to seniors in their communities through passage of the Older Americans Act (OAA). Due to their leadership, the OAA became a carefully crafted piece of legislation reflecting bipartisan work and a balanced, pragmatic approach to helping older Americans live longer with independence and dignity in their homes and communities.
"The Older Americans Act (OAA) provides essential services every year to nearly 11 million older adults and caregivers nationwide," reports Washington Association of Area Agencies on Aging (W4A) State Director Cathy Knight. "Nutrition services have long been a key component of OAA's mission toward independence. In 2015, over 1.6 million home-delivered meals and over 1.4 million congregate meals were served to low income older adults and vulnerable adults in Washington State alone, while national estimates exceeded 135 million and 83 million, respectively," she said. "And OAA dollars add even more value since every $1 of OAA funding leverages nearly an additional $3 in other funding."
In addition to the services provided by the OAA, senior advocates also updated the Senator on the Washington State Small Business Retirement Marketplace during the award presentation. This program offers employees access to an employment-based retirement plan and removes many of the deterrents like lack of knowledge and understanding about retirement saving. Senator Murray had previously spoken at the 2015 White House Conference on Aging about the importance to innovative approaches to address the retirement savings crisis and was pleased to hear that Washington State was going to be the first state in the country to launch their program in February 2017.
"The work Senator Murray has done to improve the lives of residents of Washington and American families as we age, and to help care for family members who are aging will help give current and future generations the opportunity to live their best lives," said AARP State President Mike Tucker. "She has put partisanship aside to find solutions that will have a substantial impact on the lives of residents of Washington."
###