BILL STATUS UPDATE: Senate Bill 5292 (see below) passed off the Senate floor unanimously on Feb. 28. It passed the House Committee on Health Care & Wellness on March 27, and was referred to the House Appropriations Committee.





AARP has announced the launch of " Stop Rx Greed," a nationwide campaign aimed at lowering prescription drug prices. The goal of AARP's sustained campaign is to help drive down drug prices for Washingtonians and all Americans by advocating for a variety of legislative, executive, and regulatory actions at both the federal and state level.

"Americans pay the highest brand-name drug prices in the world," said AARP State Director Doug Shadel. "Congress, the Administration, and importantly, our own state legislators must take action now to lower prescription drug prices, the root cause of this problem."

According to the AARP Public Policy Institute, many prescription drugs have had substantial retail price increases every year since at least 2006. In 2015, retail prices for more than 750 prescription drugs commonly used by older adults increased by an average of 6.4%, more than 50 times higher than the general inflation rate of 0.1%.

As part of the campaign, AARP Research conducted a national survey of likely voters ages 50 and older. The survey found that significant majorities of self-identified Republican, Democrat, and independent voters shared concerns about the high price of drugs, and support common-sense policies that will lower prices. Survey findings include:

• 72 percent say they are concerned about the cost of their medications.
• 63 percent say the cost of prescription drugs is unreasonable.
• 90 percent support allowing Medicare to negotiate for lower drug prices.
• 80 percent report taking at least one prescription medication.
• Nearly 40 percent say they did not fill a prescription provided by their doctor with cost being the most common reason.

The Stop Rx Greed campaign will include national television, radio and digital ads, editorial content, emails to members, social media posts, ongoing advocacy and grassroots activity in D.C. and the states, and a petition calling on Congress and the Administration to take action now. As part of the campaign, AARP will push for support of a number of policy solutions at the national and state level to help lower drug prices, including:

• Allowing Medicare to negotiate for lower prescription drug prices.
• Allowing states to negotiate lower prices with drug companies.
• Giving state Attorneys General authority to crack down on outrageous price increases.
• Clamping down on pay-for-delay and other loopholes that keep lower cost generic drugs off the market.
• Capping consumers' prescription drug out-of-pocket costs.



Action in Olympia to shine a light on high Rx drug costs

Here in Washington State, AARP is advocating this legislative session for the passage of Senate Bill 5292 aimed at providing increased transparency around prescription drug price increases. The measure would require the state Health Care Authority (HCA) to compile an annual list of ten prescription drugs that have a significant impact on state expenditures but are critical to public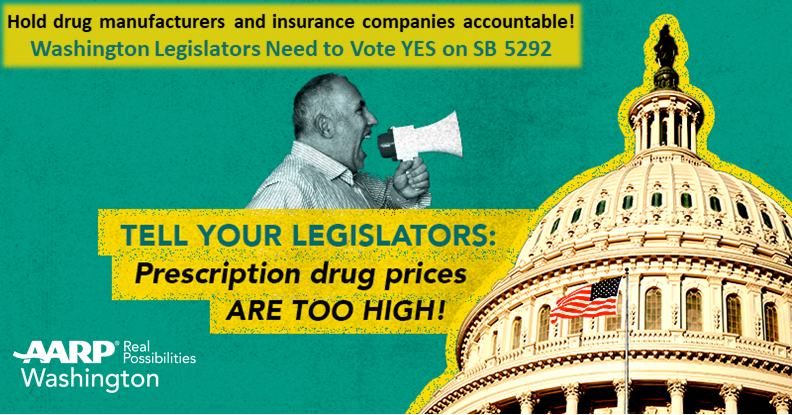 health. Drug manufactures would in turn need to provide price increase justification and other information about those drugs to the HCA.

Under SB 5292, other entities in the drug supply chain like insurance companies and pharmacy benefit managers would also have to provide information such as rebates received and retained, lists of the costliest prescription drugs, and the impact of prescription drug price increases on premiums. The HCA would then analyze this information and provide annual reports to the State Legislature on the overall impact of drug costs on health care premiums.

"This bill will go a long way towards revealing the real cost of prescription drugs," said bill sponsor Sen. Karen Keiser (D-Des Moines) in a news release. "As things stand, we really do not have publicly available drug pricing information. It's past time to shed some light on this industry. People should be able to know what the prescription drugs that they need and pay for actually cost to make and distribute," she said.

"Drug companies are making BILLIONS in profits off seniors and hardworking Washingtonians. That's just wrong, and something has to change," says Shadel. "We need to do more to hold drug manufacturers and insurance companies accountable for skyrocketing prices. Senate Bill 5292 is a step in the right direction," he added.

For more about Stop Rx Greed, visit www.aarp.org/rx.