Come see some of the newest and best artistic and culturally significant films from around the world, May 19 – June 12, 2016 in Seattle. Discover new cultures and hear the film directors' on-location experiences.


SIFF is the largest film festival in the United States, with more than 150,000 people attending each year. The 25-day event is also the region's most accessible and critically acclaimed festival, renowned for presenting over 400 features, short films and documentaries gathered from over 80 countries.

In partnership with the Seattle International Film Festival (SIFF), AARP is offering discounts to members. AARP members can receive $2 off of any regular screening by entering the discount code GROWNUPS16 at check out. Tickets can be purchased online at www.SIFF.net, at the box office and by phone at 206-324-9996.

AARP has also recognized the best movies with a special appeal to the 50-plus moviegoer. Don't miss our "Movies for Grownups" selections at the film festival. Here is the lineup:

-Gold Balls

-Last Cab to Darwin

-Home Care

-The Violin Teacher

-Sunset Song

-Maya Angelou: And Still I Rise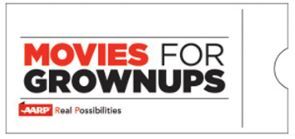 To learn more about the film festival and explore film choices visit www.SIFF.net. Be sure to enter the discount code GROWNUPS16 at check out to receive your $2 discount on any regular screening.