AARP members are invited to see the classic musical Carousel at the beautiful and historic 5th Avenue Theater in Seattle at a savings of 25%. The show runs February 5th to March 1st and the discount is available for all performances.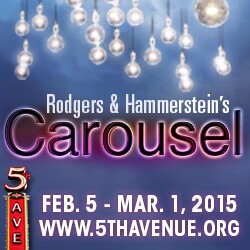 Prepare to be captivated by one of Rogers and Hammerstein's most beautiful and enduring musicals. A tempestous love story told with heart-breaking tenderness, Carousel follows the passionate romance between carnival barker Billy Bigelow and mill worker Julie Jordan. You'll be swept away by such cherished songs as "If I Loved You", "June Is Busting Out All Over", and "You'll Never Walk Alone".

Click here to buy your discount tickets, at 25% off!

Patrons using mobile devices, please log in and enter promo code SEA50. All sales are final. Some service fees apply. Not valid on previously purchased tickets.