AARP is proud to be the lead sponsor for a series of free, nonpartisan, publicly accessible debates for Governor and U.S. Senator this fall hosted by the Washington State Debate Coalition.
"We believe that voters should have more information from candidates than 30 second sound bites from partisan sources," said AARP Advocacy Director Cathy MacCaul. "We deserve better. Debates are valuable opportunities for the public to engage with the candidates on the important issues that matter most to them."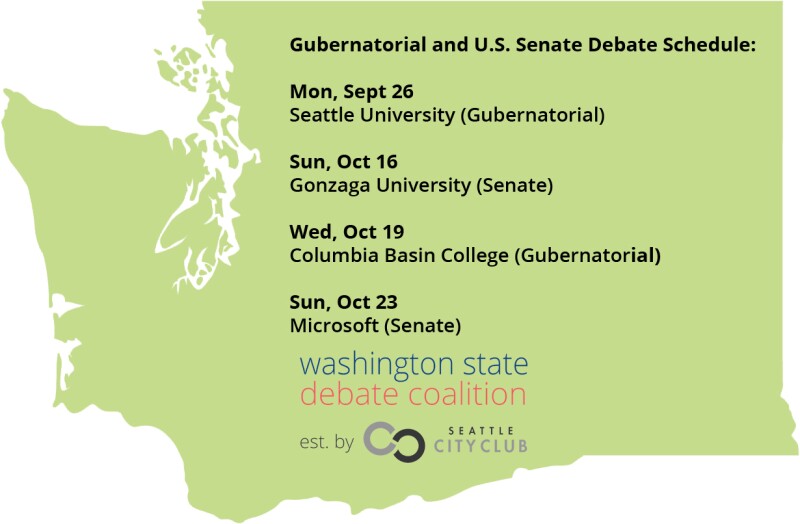 The Washington State Debate Coalition, founded by Seattle CityClub, has announced the dates and location of the debates as follows:

Mon, Sept 26 – Seattle University, 8 p.m. PT (Gubernatorial)
Sun, Oct 16 – Gonzaga University, 7 p.m. PT (Senate)
Wed, Oct 19 – Columbia Basin College, 8 p.m. PT (Gubernatorial)
Sun, Oct 23 – Microsoft, 7 p.m. PT (Senate)
With the help of the Coalition's 80 broadcast partners, the debates will reach voters in every corner of the state, via television and live streaming.
For the latest scheduling and broadcast information, to register to attend a local debate, or to submit a question for consideration, go to www.seattlecityclub.org/wastatedebatecoalition You can tweet your questions to the candidates using the hashtag #WAelex, and be sure to follow us @aarpwa.
Among the many important issues AARP is focused on this election season, we're encouraging our members to insist candidates for President and Congress "Take a Stand" on the future of Social Security. "Social Security is your money. Today, 170 million Americans are working hard and paying in but the program needs to be updated," said MacCaul. "Every year our leaders, including the President and members of Congress, wait or do nothing to find a solution to sustain Social Security. That's unacceptable," she said.
For more information on Take a Stand, and to find out how you can get involved visit our webpage.
Also be sure to check out AARP's new video voter's guide for the Governor's race. We asked the candidates about issues like retirement security, caregiving and long-term care. See what they had to say.