Everyday Behaviors Put Washingtonians at Greater Risk of Tax ID Theft
IRS Imposter Scam Also Making the Rounds in Washington
It's tax season for consumers, but also open season for scam artists. The AARP Fraud Watch Network and the Washington State Attorney General's Office are launching an education effort to help people protect themselves from tax scams.
According to the Federal Trade Commission, Washington State ranks 25th in the nation in ID theft complaints, and some everyday behaviors are putting many Washington taxpayers at risk, according to a recent state study released by the AARP Fraud Watch Network.
"Throwing a pay stub in the trash may seem easier than finding a shredder, but the risk of having your tax refund stolen is just too great," said AARP State Director Doug Shadel. "The Fraud Watch Network is urging all Washingtonians to file early so you can beat con artists to the punch."
In one identity theft scheme centered around tax time, scammers electronically file a tax return under someone else's name to collect their tax refund. All they need is a birthdate and Social Security number, and many taxpayers make their personal information easy pickings by: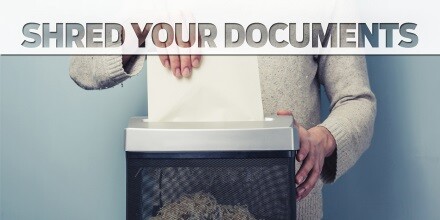 Failing to lock their mailbox. Over one-third (34%) of Washingtonians receive their mail in an unlocked mailbox or mail slot at home, which leaves them open to a criminal stealing bills, tax forms and other documents that contain personal information.
Leaving valuables exposed: Nearly six-in-ten (57%) of Washingtonians left at least one valuable personal item in their car in the last week (e.g., a purse/wallet, paystub, laptop) that could be used to steal their identity.
Failing to destroy personal information: More than one in five (19%) Washingtonians say they never shred any of the personal documents that could be used to steal their identity.
Tips on how to protect yourself and your family from tax identity theft include:

Do

mail tax returns as early in the tax season as possible, before the cons beat you to it.

Don't

give out personal information unless you know who's asking for it and why they need it.

Shred

personal and financial documents.

Know

your tax preparer.
Also be on the lookout for the IRS Imposter Scam
In this intimidating and sophisticated phone scam, callers claim to be IRS employees, and say you owe taxes. They might also:

Threaten to arrest or deport you if you don't pay.
Know all or part of your Social Security number.
Rig caller ID to make it look like the call is from the IRS.
Tell you to put the money on a prepaid debit card and tell them the card number.
The IRS does NOT call to demand immediate payment for taxes owed without first sending you a notification by mail. They also won't ask for credit or debit card numbers over the phone, or threaten to bring in local police to arrest you for nonpayment.
"Consumers must take care to watch out for tax scammers who will not hesitate to steal identities and help themselves to tax refunds" says Washington State Attorney General Bob Ferguson. "Protect your personal information and spread the word about this tax season scam to your friends and family."
Ferguson advises that if people have any doubts they should hang up and call the IRS directly at 1-800-829-1040 or got to www.irs.gov.
Consumers should then report the call with:

To help spread the word about this scam, AARP developed a humorous video on the subject (also featured below), and also launched a new webpage with additional tips.
Other Resources
Washingtonians are also encouraged to visit aarp.org/taxaide (1-888-227-7669) for information about AARP Foundation Tax Aide, the nation's largest free, volunteer-run tax preparation program. Each tax season, Tax Aide helps millions of low- to moderate-income taxpayers – especially those 60 and older – get the credits and deductions they deserve.
For these and other fraud prevention tips, visit aarp.org/fraudwatchnetwork or call the AARP Foundation Fraud Fighter Call Center at 1-800-646-2283.
To learn more about the Washington State Attorney General's Office consumer protection work, visit www.atg.wa.gov