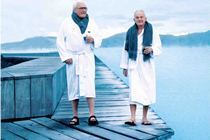 SORRY - THIS MOVIE SCREENING IS FULL - PLEASE CHECK OUR SITE OFTEN FOR NEWS OF NEW SHOWINGS
AARP Seattle invites you and a guest to a free June 24 movie screening.
In Land Ho!, a pair of ex-brothers-in-law, Mitch and Colin, were close friends, but they drifted apart as Mitch and his wife divorced and Colin's wife died. Now Mitch, a retired surgeon who can't quite admit to being retired, recruits a reluctant Colin on a holiday to Iceland—just the ticket to perk up a pair who have endured their share of disappointments but still have a spirit of adventure in them. This bawdy adventure is a throwback to 1980s road comedies, as well as a candid exploration of aging, loneliness, and friendship.
Don't miss out on a chance to join us at the free screening of Land Ho! The tickets are free, but you must preregister. Also check out the preview below.
June 24, 2014
3:00pm
Regal Cinema – Thornton Place
301 NE 103rd St, Seattle, WA 98125
Register online
https://www.youtube.com/watch?v=VOrALE_pBxU